Cease and Desist Letter Template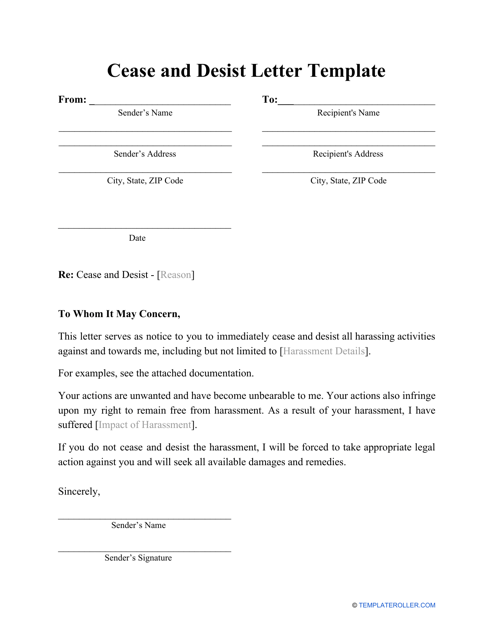 What Is a Cease and Desist Letter?
A Cease and Desist Letter is a letter sent to advise a recipient to stop certain activities, for instance, slander, libel, or defamation, breach of a trademark or copyright, plagiarizing an individual or company's work, or violation of a Non-Compete Agreement. It may cover any type of behavior that the sender believes directly or indirectly affects their rights, and its purpose is to make individuals and entities stop doing the alleged offending activity. It can be extremely effective when used in the correct context against those who took part in illegal activities. If the recipient fails to comply with the demands outlined in the letter, the sender must be prepared to take further legal action.
Alternate Names:
Cease and Desist Demand;
Offensive Behavior Notice.
If you need a Cease and Desist Letter template, you may download it below. Consider completing a Copyright Infringement Notice before sending a Cease and Desist. This document is most often used as a first warning and does not threaten legal action - it is a request to stop the act of copyright infringement without further legal remedies.
Difference Between Cease and Desist Order and Letter
In some cases, a letter may not be enough, and if you consider the matters serious enough and have the time and financial resources you may wish to ask the court to issue a Cease and Desist Order. The official order is handed down by the court (or sometimes by a government body) and is called a cease and desist order.
How to Serve a Cease and Desist Letter?
When you serve a Cease and Desist Letter, you let the offender know of their infringing behavior - this will prevent the recipient from later claiming a lack of knowledge. If you fail to send this letter, you may suffer a loss of money and opportunity costs. Follow these steps to properly deliver a Cease and Desist letter:
Find out the address of the individual or entity. You may locate it online or through the previous mail correspondence.
Send the letter through Certified Mail. It will ensure the party receives the cease and desist letter.
Contact the other party with an email or phone call to confirm they received the letter. This is optional, but open communication will help you to reach a quicker resolution of the issue.
How to Write a Cease and Desist Letter?
In many cases, a Cease and Desist Letter is the most effective way to stop unwanted activity. It is recommended to include the following details in your document:
Your name, address, and telephone number.
Recipient's name, address, and telephone number.
Demand to stop the harassment. Use actionable and direct language that not only notifies the offender of the violation but also incites a certain level of fear of legal consequences. Show your willingness to pursue both civil and criminal action with the court if the recipient chooses to ignore the letter. Make sure you only include truthful claims in your letter and do not intimidate the recipient's sense of security and safety. Attach documents and records to help demonstrate proof of the copyright infringement occurring - send the copies, keep the originals. Your letter must be stern enough to draw the offender's attention while not being deceitful or overly bitter.
During the response period, the violating party is entitled to, you should prepare for the worst and be ready to go to court. If the offender continues their illegal behavior, you may have to file an action to get a restraining order from the judge.
How to Respond to a Cease and Desist Letter?
Here is what you need to do when you receive a Cease and Desist Letter:
Do not dismiss the claims thinking they are illegitimate. While it may be a shock for you to receive such a letter, it is likely you may actually be infringing on another individual or company's intellectual property rights without realizing it.
Check your personal or business insurance policy to see if you have any protections against this type of legal action. Think about the consequences of not complying with the letter - sometimes, compliance is the better option compared to expensive litigation.
You cannot ignore the letter or throw it away, or you risk having the sender commence a lawsuit against you. Write down a Cease and Desist Response Letter agreeing with the claim or denying it. Provide evidence if you have any to show you have not violated any laws - the sender may have made a false claim regarding the intellectual property in question. However, if you agree with the letter's stipulations you have to cease all illegal behavior and provide evidence of it.
Do not share any of the issues discussed in the letter online - everything you post online may be admissible in court. Make sure you keep the Cease and Desist Letter for your records - it will support your argument and help you disprove illegal behavior.
---
Still looking for a particular template? Take a look at these related templates below:
Download Cease and Desist Letter Template