Response to Cease and Desist Letter Template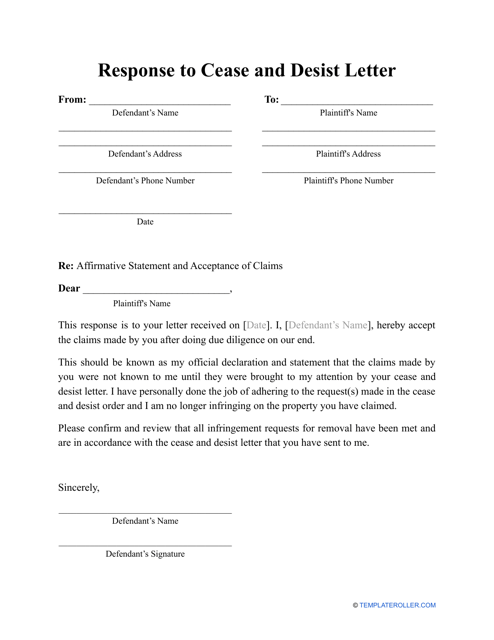 What Is a Cease and Desist Response Letter?
A Response to a Cease and Desist Letter is a written statement prepared by an individual or organization that has received a Cease and Desist Letter requesting them to stop a certain violation of rights - you may either dispute the claims of the other party, ask for more particulars or documents to make a more informed decision, or agree with the allegations right away if you know you were wrong.
You can download a ready-made printable Cease and Desist Response Letter template through the link below.
How to Respond to a Cease and Desist Letter?
Once you receive a Cease and Desist Letter, prepare to defend your interests. Consult with your business partners if the alleged infringement concerns them as well to make sure you are on the same page. Take your time to compose the response but do not wait too long - the sender may think that you chose to ignore the letter, and that will bring unwanted disputes.
Follow these steps to create a Cease and Desist Letter:
Identify yourself and add your contact information.
Choose a suitable option:

Agree to the letter's demands and promise to cease the illegal behavior described in the letter;
Refuse to comply with the demands and deny all accusations if you believe you have done nothing wrong. When it comes to this alternative, it is paramount that you start collecting evidence that proves you are not in the wrong. You may even mention certain evidence in your response or attach documentation that solidifies your position;
Request more information if you do not fully understand where and when you infringed on the sender's rights.

Ask the sender to review your position and confirm you are prepared to stay in contact for further negotiations if needed.
Do I Need to Respond to a Cease and Desist Letter?
Although a Cease and Desist Letter may be a huge surprise for you, it is important to choose a course of action as soon as you can. Examine the letter thoroughly to assess whether the individual or entity who sent you the letter has the rights to the intellectual property you allegedly infringed, whether you are the intended recipient of the claim, whether the allegations in the letter are valid and enforceable, and what are the financial consequences of any decision you make will be.
Whatever option you choose - comply with the sender's demands, disagree with them, or offer to negotiate a mutually sustainable outcome for both parties - you should compose a letter and let the sender know your position. Even if you think the demands do not have any ground, respond anyway - establish your point of view and explain the reasons for non-compliance.
What Happens If You Ignore a Cease and Desist Order?
If you decide to ignore the letter that asks you to stop interfering with the sender's rights, there will be negative consequences:
You might receive more correspondence. The party that took the time to draft a Cease and Desist Letter will not stop there - they will keep mailing you new letters or even try to arrange a meeting in person until they get some sort of response.
You may go to trial. Yes, you do not have to create a Cease and Desist Response if you do not want to, but the next thing may be worse - an official complaint and summons, which means that a lawsuit awaits you.
You may be served with a restraining order. A summons to court is not the only document you might see in your correspondence - a restraining order that prohibits you from continuing the actions indicated in the complaint will lead to more legal issues and may even damage your professional reputation.
---
Not what you were looking for? Take a look at these similar templates:
Download Response to Cease and Desist Letter Template