Sample DD Form 1348-1a Issue Release/Receipt Document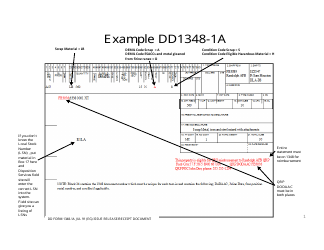 DD Form 1348-1a - also known as the "Issue Release/receipt Document" - is a United States Military form issued by the Department of Defense.
The form - often incorrectly referred to as the DA form 1348-1a - was last revised on July 1, 1991. Download an up-to-date PDF version of the DD 1348-1a below or request a copy through the chain of command.
Example DD1348-1A
Scrap Material = LB
DEMIL Code Scrap  = A
Condition Code Scrap = S
DEMIL Code ESACCs and metal gleaned 
Condition Code Eligible Hazardous Material = H
from firing range = Q
If you don't
know the
Local Stock
Entire
Number
statement must
(LSN) , put
be on 1348 for
material in
reimbursement
Box 17 here
and
Disposition
Services field
site will
QRP
enter the
DODAAC
correct LSN
must be in
into the
both places
system.
Field site can
give you a
listing of
LSNs
1
DD FORM 1348-1A JUL 91 (EG) ISSUE RELEASE/RECEIPT DOCUMENT