Wedding Registry Checklist Template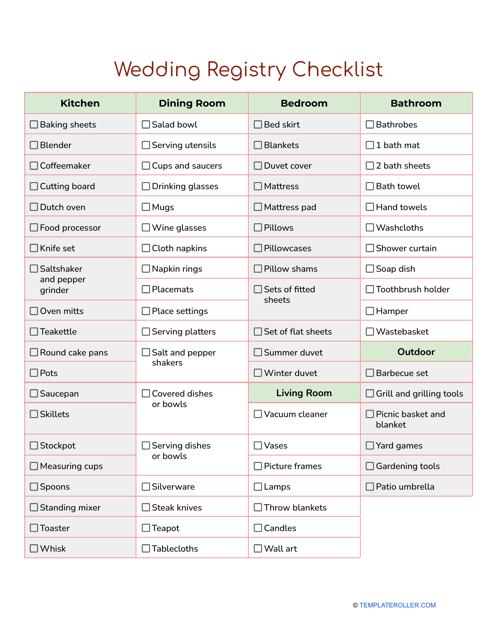 What Is a Wedding Registry Checklist?
Planning a wedding is always a fun and exciting time for the happy couple. If you find yourself in this position, you may benefit from a Wedding Registry Checklist which is created in order to offer your guests a guide as to what gifts they can bring to the wedding. Although planning and picking out presents can be extremely fun for guests, it would be a shame if guests coincidentally gift the same present. Likewise, not everyone is imaginative and some guests may find it difficult and even stressful to pick out a gift that the happy couple actually need, particularly if the guests are not very close to the couple.
In order to overcome these worries, you can create a checklist that specifically lists the type of gifts that the newlyweds would benefit from. A basic Wedding Registry Checklist will break down all suggested gifts into various categories for example "Kitchen gifts", "Bathroom gifts" and so on. In most cases, the couple-to-be will select a store which will help them create a list of gifts based on the products they offer. That list is then relayed to guests and once guests purchase specific items, that list is updated to ensure no two guests purchase the same gift. It is true however that sometimes a couple may just have about everything and would prefer cash instead - which is perfectly acceptable.
A Wedding Registry Checklist template can be downloaded by clicking the link below.
How to Make a Wedding Registry Checklist?
Making the perfect Wedding Registry Checklist may take some time and thought. To simplify this process for you we have compiled a list of some of our top tips and hints to ensure that you produce the best Wedding Registry Checklist possible:
The sooner you make a registry checklist the better. This will give guests more time to think about and purchase gifts. This is not to say that you should make a rushed decision however. Carefully think about the items that you genuinely need and items that you will actually use in the future;
At the same time - avoid being too picky. Provide your guests with as much choice as possible and try not to limit the items on the list;
Consider what steps you could take if you may need to return a gift in case it arrives broken or with another major fault;
Be thoughtful when creating your list. Although of course it would be nice to be showered with expensive gifts, the reality is that not all guests may be able to afford such presents. Keep the prices varied so that all guests can find something to buy within their personal price range;
Ensure that you keep an updated checklist. If you do not regularly update the checklist and send it out to guests, it defeats one of the main purposes of using the checklist in the first place. You don't want to end up with four coffee machines - even if you are a massive fan of coffee.
---
Haven't found the template you're looking for? Take a look at the related templates below:
Download Wedding Registry Checklist Template