Divorce Settlement Agreement Template - Virginia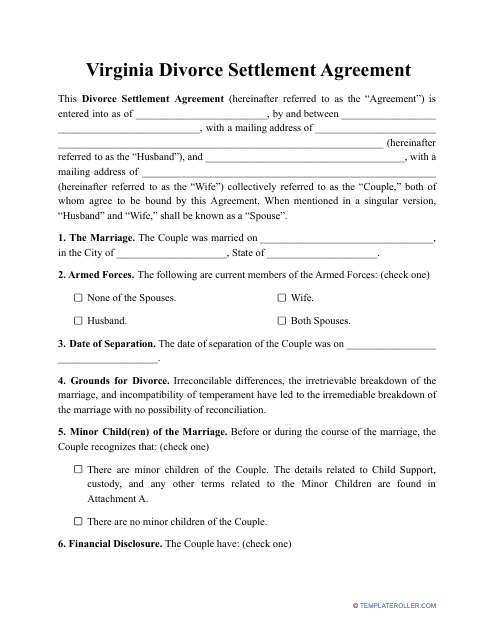 Fill PDF Online
Fill out online for free
without registration or credit card
Virginia Divorce Settlement Agreement: What Is It?
A Virginia Divorce Settlement Agreement refers to a legally enforceable contract signed by the spouses who seek to achieve mutual understanding regarding the conditions of their permanent separation - explain how the assets will be divided, establish financial support for one of the spouses, and determine how you will raise your children in the future.
Alternate Names:
Virginia Marital Settlement Agreement;
Virginia Divorce Agreement.
You can find a Virginia Divorce Settlement Agreement template through the link below.
How to File for Divorce in Virginia?
Here is what you need to do to dissolve your marriage in the state of Virginia:
Prepare a divorce complaint to indicate the reason for the divorce, confirm you are a resident of the state and you and your spouse have been separated for a year, and provide personal details of the couple. Note that you cannot submit the documentation to the circuit court right after you broke up with your partner - you have to wait for a year to start the divorce proceedings; however, the waiting period is reduced to six months for spouses that managed to communicate and draft a Virginia Divorce Agreement to specify how their property will be divided, so opt for this contract to speed up the divorce.
Formally notify the other party about the upcoming divorce. You may ask a local sheriff to do it for you or hire a professional process server - alternatively, if the spouse is aware of the complaint, they may refuse the service and sign a waiver form instead letting the court know they are informed already. This spouse is supposed to compose a written answer to agree with or dispute the statements included in the complaint within three weeks.
Complete a divorce order and file it with the clerk. The rest will depend on your location - the regulations vary from county to county: you may need to appear in front of the judge to verify your intentions to end the marriage, file an affidavit in case both parties have a mutual understanding regarding the terms of the divorce, or inform the court about the details of your case via a deposition. The judge will examine the paperwork you have submitted and sign the order to formalize the divorce - both parties are entitled to get a copy of the document.
---
Still looking for a particular template? Take a look at the related templates below:
Download Divorce Settlement Agreement Template - Virginia