Divorce Settlement Agreement Template - Washington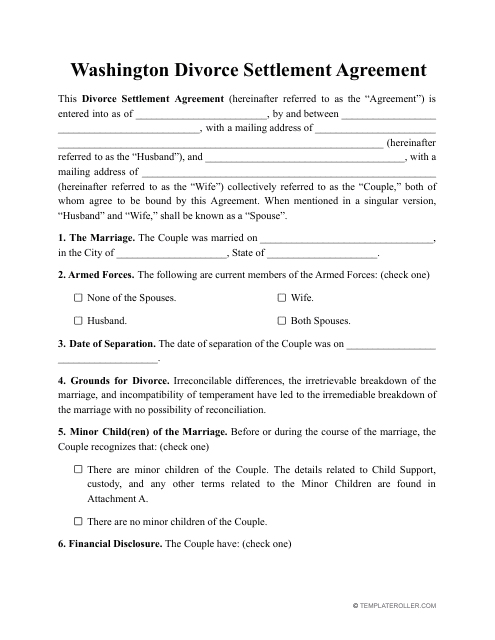 Fill PDF Online
Fill out online for free
without registration or credit card
Washington Divorce Settlement Agreement: What Is It?
When a divorce process is initiated, at one stage of the court process you will need to fill in a Washington Divorce Settlement Agreement.
Alternate Names:
Washington Marital Settlement Agreement;
Washington Divorce Agreement.
It is vital that any arrangements made between two individuals are noted within the document and signed. The main bonus of using such an agreement is that it keeps a documented record of all responsibilities, agreements and obligations that were made by each individual. These agreements usually involve:
Details about the financial support that one spouse guarantees the other spouse;
Details about the financial support that one spouse guarantees to pay their child or children;
Details about custodial arrangements for the child;
A description of how any assets should be shared out, providing that the named assets were acquired in marriage.
A Washington Divorce Settlement Agreement template can be downloaded by clicking the link below.
How to File for Divorce in Washington?
If the involved individuals decide on the points described above prior to launching any legal proceedings, the time that the case will be in court for will significantly shorten. It is crucial for both parties to be open about their total income.
Filing for a divorce in Washington takes a minimum of 90 days. There is also a filing fee which may differ depending on the county within the state. The average fee totals around $300. Below we have compiled a list of the necessary steps that should be taken into account when filing for a divorce in Washington:
Collect, complete and file all of the necessary documents that concern your case. It is important to determine which documents you need and you can receive this information from the courts. Every case may be different;
If both partners are in full agreement, they can file a joint petition or in the event that there is no mutual agreement, the defendant will need to be served with a notice;
The respondent will have twenty days to make a formal reply;
If the spouses have any mutual children they will need to attend a special parenting class to help them cope with the upbringing of children post-divorce;
The Marital Settlement Agreement must be filled in along with any other additional documents and presented to the court;
Attend the hearing and await the verdict. If positive, you can legally change your name.
---
Haven't found the template you're looking for? Take a look at the related templates and forms below:
Download Divorce Settlement Agreement Template - Washington