Divorce Settlement Agreement Template - West Virginia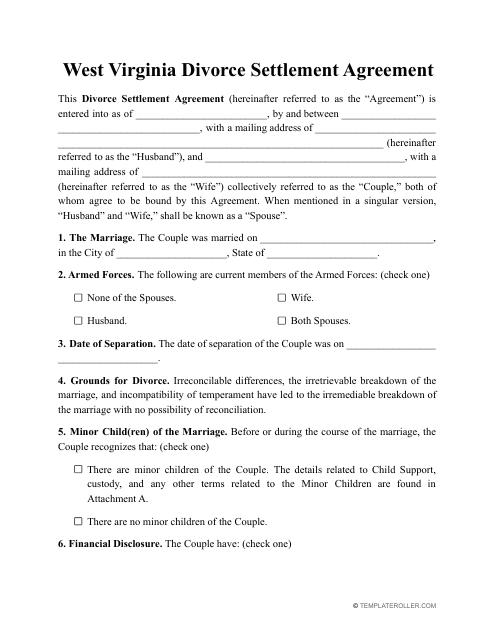 Fill PDF Online
Fill out online for free
without registration or credit card
West Virginia Divorce Settlement Agreement: What Is It?
A West Virginia Divorce Settlement Agreement is a legal agreement that will be needed when a couple is going through a divorce.
Alternate Names:
West Virginia Marital Settlement Agreement;
West Virginia Divorce Agreement.
The main reason for this document is to keep a documented record of all conditions and agreements that were reached between the couple undergoing the divorce. The agreement should describe all responsibilities and obligations that each individual has in respect any mutual children as well as each other.
Any arrangements should include information about:
The agreed parental commitments that each party has and this should cover the custody of any children and financial compensation for e.g. child support;
Some couples may agree on financial support for their former spouse (alimony);
Any agreements that concern property delegation, as well as debt delegation, should be described within the document, providing that these were obtained in marriage;
A West Virginia Divorce Settlement Agreement template can be downloaded by clicking the link below.
How to File for Divorce in West Virginia?
If you want your divorce process to be carried out fairly, you should be sure that all responsibilities and assets are shared appropriately. There must be proof and a summary of total financial income for both individuals. In West Virginia there is a fee for filing for divorce of $135 which must be paid to the Circuit Clerk's Office. This will take at least thirty days and this time period can be extended up to a maximum of ninety days.
To commence the divorce proceedings, carefully look at the steps that need to be taken:
Figure out and fill in all of the relevant paperwork that you need. There is no gold standard unfortunately and a lot of the documents you will need to fill in will depend upon your specific case and situation such as whether or not children are involved;
The petition must be filed along with other relevant documents that may also need to be notarized before being presented to court;
The respondent must be served with a notice and given twenty days to answer. In some instances this can be extended to thirty days depending on how the notice was served;
Attend a parenting class if you have children and then await the hearing after which the divorce may be granted depending on the decision of the judge.
---
Still looking for a particular template? Take a look at the related templates below:
Download Divorce Settlement Agreement Template - West Virginia