Divorce Settlement Agreement Template - Wyoming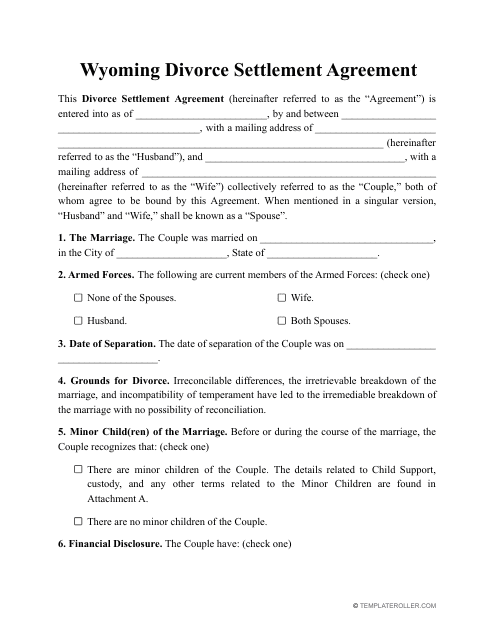 Fill PDF Online
Fill out online for free
without registration or credit card
Wyoming Divorce Settlement Agreement: What Is It?
As a divorce process starts, you will inevitably be faced with a Wyoming Divorce Settlement Agreement.
Alternate Names:
Wyoming Marital Settlement Agreement;
Wyoming Divorce Agreement.
It is of high importance that any agreements made between two former partners should be documented and signed in the Marital Settlement Agreement. The document, if formed correctly, will contain a list of all obligations and arrangements that have been made by both individuals. These agreements will take into account:
If there are any reasons to legally oblige a spouse to financially compensate the other spouse;
If there are any reasons to legally oblige a parent to provide financial assistance to a child;
The decision that was reached regarding custody rights for any minors that the couple may have;
If the couple owned any properties, vehicles or other assets (which were obtained during marriage) all of these assets should be delegated in a way that will leave both parties happy.
A Wyoming Divorce Settlement Agreement template can be downloaded by clicking the link below.
How to File for Divorce in Wyoming?
If the parties involved in the divorce decide on a concrete plan concerning agreements and responsibilities before they file for divorce, it will increase the speed of the process and make them feel more relaxed. They should clearly show their whole income over a period of time.
If you decide to file for divorce and you are living in Wyoming, you should be aware that it can take a minimum of thirty days and a maximum of ninety days. The filing fee paid to the District Court will vary depending on the county, however, the average price is approximately sixty dollars. To make sure that you follow the correct procedure:
Find the necessary paperwork and ensure that you complete it correctly. If you are unsure about something, double-check before proceeding;
File all of the documents to the relevant court and pay the correct fee in your county;
Serve the defendant a notice in the appropriate way that is permitted by the state;
Await their answer which can range from 20-30 days depending on whether or not they are present in the state;
Attend any parenting classes if you have children and then submit the rest of the required documents;
Attend the hearing after it has been scheduled and if successful, you can change your legal name.
---
Still looking for a particular template? Take a look at the related templates below:
Download Divorce Settlement Agreement Template - Wyoming