Free Massachusetts Bill of Sale Forms and Templates
Do You Need a Bill of Sale in MA?
Massachusetts Bills of Sale are documents you create when transferring different types of property from one party, traditionally referred to as "the seller", to the other, usually called "the buyer". Though they may differ in details, all these documents contain a basic set of information necessary to substantiate the deal, like identification information about the seller and the buyer, full description that allows identifying the sold item clearly, date of the sale, sales price, and signatures of both parties.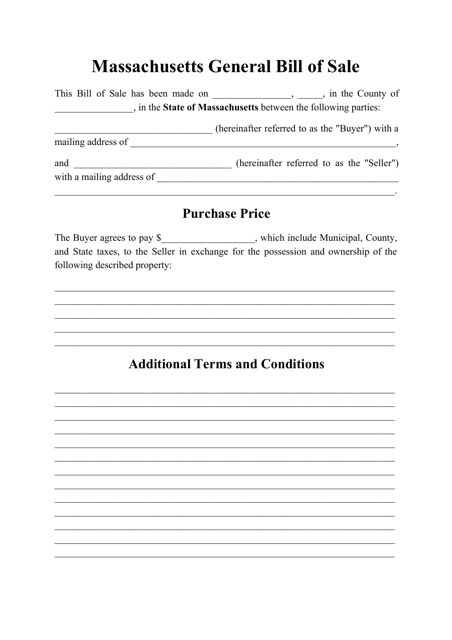 PDF
Use this form if you are a private party or a representative of a company and wish to sell or purchase an item of personal property in Massachusetts. The form contains the details of your sale and proves that the buyer now legally owns the property. You can also use it to determine the sales tax.
The Massachusetts Bill of Sale can be of four main types:
The Commonwealth of Massachusetts requires to fill out a Bill of Sale only during the transfer of a vehicle or a watercraft. In all other situations, the document is optional. However, many buyers and sellers prefer to complete it anyway. If properly filled out, this document is your protection against any fraudulent claims connected with the deal that may arise in the future. With its help, the buyer can prove the ownership of the described item. The sellers keep it to substantiate their release of responsibility for the sold item and its usage. The details this document contains can be of use when filling out registration or tax forms.
Does a Bill of Sale Need to Be Notarized in Massachusetts?
To be valid, a Bill of Sale in Massachusetts does not require notarization. At the same time, notary public's certification adds an extra layer of protection to your deal. That is why many sellers and buyers prefer to sign the document in front of a notary public. Note that some states accept only notarized bills of sale. Therefore, if you sell an item to an out-of-state buyer, the buyer may insist on the notarization of the document.