DA Form 67-9 Officer Evaluation Report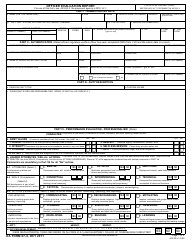 What Is DA Form 67-9?
DA Form 67-9 or Officer Evaluation Report is a form used in the Officer Evaluation Process. This document contains all information about the rated officer's competence, physical and mental condition, leadership abilities and their potential for promotion. DA 67-9 is universal for any rank of the rated and the rater. This particular form has replaced the outdated DA Form 67-8 (US Army Officer Evaluation Report).
The October 2011 edition of the report was the last one released by the Department of the Army. An up-to-date non-fillable version of the DA 67-9 is available for download below.
The form - sometimes referred to DA Form 67 for short - should not be confused with the DD Form 67, Form Processing Action Request. The latter is used to request a revision or cancellation of any existing DD form or to add a new one to the DoD inventory.
OFFICER EVALUATION REPORT
FOR OFFICIAL USE ONLY (FOUO)
AR 623-3
For use of this form, see
; the proponent agency is DCS, G-1.
SEE PRIVACY ACT STATEMENT IN AR 623-3.
PART I - ADMINISTRATIVE DATA
DESIGNATED
a. NAME (Last, First, Middle Initial)
b. SSN
c. RANK
d. DATE OF RANK
(YYYYMMDD)
e. BRANCH
/
PMOS (W0)
f.
SPECIALTIES
g.1. UNIT, ORG., STATION, ZIP CODE OR APO, MAJOR COMMAND
g.2. STATUS CODE
h. REASON FOR SUBMISSION
j. RATED
k. NONRATED
l. NO. OF
i. PERIOD COVERED
m. RATED OFFICER'S AKO EMAIL ADDRESS
n. UIC
o. CMD
p. PSB
MONTHS
CODES
ENCL
(.gov or mil)
CODE
CODE
FROM (YYYYMMDD)
THRU (YYYYMMDD)
PART II - AUTHENTICATION (Rated officer's signature verifies officer has seen completed OER Parts I-VII and the admin data is correct)
a. NAME OF RATER (Last, First, MI)
RANK
SSN
POSITION
SIGNATURE
DATE (YYYYMMDD)
b. NAME OF INTERMEDIATE RATER (Last, First, MI)
RANK
SSN
POSITION
SIGNATURE
DATE (YYYYMMDD)
RANK
c. NAME OF SENIOR RATER (Last, First, MI)
SSN
POSITION
SIGNATURE
DATE (YYYYMMDD)
BRANCH
E-MAIL ADDRESS (.gov or .mil)
SENIOR RATER'S ORGANIZATION
SENIOR RATER TELEPHONE NUMBER
e. SIGNATURE OF RATED OFFICER
DATE (YYYYMMDD)
d. This is a referred report, do you wish to make comments?
No
Yes, comments are attached
PART III - DUTY DESCRIPTION
a. PRINCIPAL DUTY TITLE
b. POSITION AOC/BR
c. SIGNIFICANT DUTIES AND RESPONSIBILITIES. REFER TO PART IVa, DA FORM 67-9-1.
PART IV - PERFORMANCE EVALUATION - PROFESSIONALISM (Rater)
CHARACTER
Disposition of the leader: combination of values, attributes, and skills affecting leader actions
a.
ARMY VALUES
(Comments mandatory for all "NO" entries. Use PART Vb.)
Yes No
Yes No
1. HONOR:
5. RESPECT:
Promotes dignity, consideration, fairness, & EO
Adherence to the Army's publicly declared code of values
2. INTEGRITY:
6. SELFLESS-SERVICE:
Possesses high personal moral standards; honest in word and deed
Places Army priorities before self
3. COURAGE:
7. DUTY:
Manifests physical and moral bravery
Fulfills professional, legal, and moral obligations
4. LOYALTY:
Bears true faith and allegiance to the U.S. Constitution, the Army, the unit, and the soldier
b. LEADER ATTRIBUTES / SKILLS / ACTIONS:
First, mark "YES" or "NO" for each block. Second, choose a total of six that best describe the rated officer. Select one from
ATTRIBUTES, two from SKILLS (Competence), and three from ACTIONS (LEADERSHIP). Place an "X" in the appropriate numbered box with optional comments in PART Vb.
Comments are mandatory in Part Vb for all "No" entries.
MENTAL
PHYSICAL
EMOTIONAL
b . 1 . ATTRIBUTES (Select 1)
1.
2 .
3.
Fundamental qualities and
Possesses desire, will, initiative, and discipline
Maintains appropriate level of physical
Displays self-control; calm under pressure
characteristics
fitness and military bearing
CONCEPTUAL
INTERPERSONAL
TECHNICAL
b.2 SKILLS (Competence)
1.
2.
3.
Demonstrates sound judgment, critical/creative
Shows skill with people: coaching, teaching,
Possesses the necessary expertise to
(Select 2)
thinking, moral reasoning
counseling, motivating and empowering
accomplish all tasks and functions
Skill development is part of self-
development; prerequisite to action
4. TACTICAL
Demonstrates proficiency in required professional knowledge, judgment, and warfighting
b.3. ACTIONS (LEADERSHIP) (Select 3) Major activities leaders perform: influencing, operating, and improving
COMMUNICATING
DECISION-MAKING
MOTIVATING
INFLUENCING
1.
2.
3.
Method of reaching goals while
Displays good oral, written, and listening skills for
Employs sound judgment, logical reasoning
Inspires, motivates, and guides others toward
operating / improving
individuals / groups
and uses resources wisely
mission accomplishment
PLANNING
EXECUTING
ASSESSING
OPERATING
4.
5.
6.
Short-term mission
Develops detailed, executable plans that are
Shows tactical proficiency, meets mission
Uses after-action and evaluation tools to
accomplishment
feasible, acceptable, and suitable
standards, and takes care of people/resources
facilitate consistent improvement
DEVELOPING
7.
BUILDING
LEARNING
IMPROVING
8.
9.
Long-term improvement in the Army
Invests adequate time and effort to develop
Spends time and resources improving teams,
Seeks self-improvement and organizational
its people and organizations
individual subordinates as leaders
groups and units; fosters ethical climate
growth; envisioning, adapting and leading change
c. APFT:
DATE:
HEIGHT:
WEIGHT:
d. OFFICER DEVELOPMENT - MANDATORY YES OR NO ENTRY FOR RATERS OF CPTs, LTs, CW2s, AND WO1s.
WERE DEVELOPMENTAL TASKS RECORDED ON DA FORM 67-9-1a AND QUARTERLY FOLLOW-UP COUNSELINGS CONDUCTED?
Page 1 of 2
DA FORM 67-9, OCT 2011
PREVIOUS EDITIONS ARE OBSOLETE.
APD PE v1.01ES
DA Form 67-9 Instructions
Beginning April 1, 2014, the U.S. Army will change their officer evaluation reporting system to a new format to analyze and rate officer performances in a manner more in line with Army doctrine, switching form DA 67-9 series to the DA 67-10 forms.
The report itself is prepared by the rating chain, which includes the rater and the senior rater. Sometimes an intermediate rater may take part in the evaluation process. The procedure includes supervision sessions, written descriptions of the soldier's duties, a performance assessment and a face-to-face interview. The completed will be forwarded to the Department of Army Headquarters (HQDA).
A supporting form - DA 67-9-1 - is used during the preparation of the report. The rated officer has to fill it out with a description of their duties. The DA Form 67-9-1 will not be forwarded to the HQ since it is used only as a medium for preparing the Officer Evaluation Report.
DA Form 67-9 Related Forms
DA Form 67-9-1, Officer Evaluation Support Form is used to assist the raters in preparing the report. The rated officer will receive a copy of this form at the beginning of the rating period. Their responsibility is to verify their participation in a face-to-face discussion by signing Part III and to fill out Parts IV and V.
The officer must describe their duties and responsibilities, significant contributions and any skills and abilities valuable to their service and position. This form is supposed to promote a top-down emphasis on leadership communication, integrating the rated officer into performance counseling and the evaluation process.
DA Form 67-9-1A, Developmental Support Form is mandatory when evaluating captains, lieutenants and warrant officers. The DA 67-9-1A is optional when evaluating officers of other ranks. This document contains the results of face-to-face discussion and the developmental plan that targets leadership skills. This Support Form will later be used during the follow-up counsellings of the rating chain. The general purpose of this form is to assist junior officers in their transition into Army leadership culture.