DA Form 2166-9-1 NCO Evaluation Report (Sgt)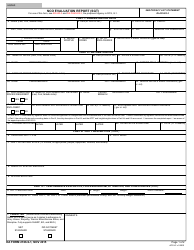 What Is DA Form 2166-9-1?
DA Form 2166-9-1, NCO Evaluation Report, SGT is a U.S. Army form used for rating and evaluating Non-commissioned officers (NCOs) after their promotion to Sergeants (SGT) including promotion to SGT following a reduction. This form is one of the several Army performance evaluation reports in the DA 2166-9 series. The form requires an evaluating officer and a senior rater to provide their assessment of the NCO's yearly performance and potential. An evaluation by a supplementary reviewer can be added if required.
The latest version of the form - sometimes mistakenly referred to as the DD Form 2166-9-1 - was issued in November 2015 by the Department of the Army. An up-to-date fillable DA Form 2166-9-1 is available for download below or can be found on the Army Publications Directorate website.
HQDA#:
NCO EVALUATION REPORT (SGT)
SEE PRIVACY ACT STATEMENT
IN AR 623-3
For use of this form, see
AR 623-3
and
DA PAM
623-3; the proponent agency is DCS, G-1.
PART I - ADMINISTRATIVE DATA
a. NAME (Last, First, Middle Initial)
b. SSN (or DOD ID No.)
c. RANK
d. DATE OF RANK
e. PMOSC
f. UNIT, ORG, STATION, ZIP CODE OR APO, MAJOR COMMAND
g. STATUS CODE
h. UIC
i. REASON FOR SUBMISSION
j. PERIOD COVERED
k. RATED
l. NONRATED
m. NO OF
n. RATED NCO'S EMAIL ADDRESS (.gov or .mil)
MONTHS
CODES
ENCLOSURES
FROM
THRU
YEAR MONTH DAY
YEAR MONTH DAY
PART II - AUTHENTICATION
a1. NAME OF RATER (Last, First, Middle Initial)
a2. SSN (or DOD ID No.)
a3. RATER'S SIGNATURE
a4. DATE (YYYYMMDD)
a5. RANK
PMOSC/BRANCH
a6. RATER'S EMAIL ADDRESS (.gov or .mil)
ORGANIZATION
DUTY ASSIGNMENT
b1. NAME OF SENIOR RATER (Last, First, Middle Initial)
b3. SENIOR RATER'S SIGNATURE
b4. DATE (YYYYMMDD)
b2. SSN (or DOD ID No.)
b5. RANK
PMOSC/BRANCH
b6. SENIOR RATER'S EMAIL ADDRESS (.gov
ORGANIZATION
DUTY ASSIGNMENT
or .mil)
c1. SUPPLEMENTARY
c2. NAME OF SUPPLEMENTARY REVIEWER
c3. RANK
PMOSC/
ORGANIZATION
DUTY ASSIGNMENT
REVIEW REQUIRED?
(Last, First, Middle Initial)
BRANCH
YES
NO
c4. COMMENTS
c5. SUPPLEMENTARY REVIEWER'S SIGNATURE
c6. DATE(YYYYMMDD)
c7. SUPPLEMENTARY REVIEWER'S EMAIL ADDRESS
(.gov or .mil)
ENCLOSED?
YES
NO
RATED NCO: I understand my signature does not constitute agreement or disagreement with the assessments of the rater and senior rater. I further understand my signature verifies that the administrative data
in Part I, the rating officials and counseling dates in Part II, the duty description in Part III, and the APFT and height/weight entries in Part IVa and IVb are correct. I have seen the completed report. I am aware of
the appeals process of AR 623-3.
d2. RATED NCO'S SIGNATURE
d3. DATE (YYYYMMDD)
d1. COUNSELING DATES INITIAL
LATER
LATER
LATER
PART III - DUTY DESCRIPTION (Rater)
a. PRINCIPAL DUTY TITLE
b. DUTY MOSC
c. DAILY DUTIES AND SCOPE (To include, as appropriate, people, equipment, facilities, and dollars)
d. AREAS OF SPECIAL EMPHASIS
e. APPOINTED DUTIES
PART IV - PERFORMANCE EVALUATION, PROFESSIONALISM, ATTRIBUTES, AND COMPETENCIES (Rater)
a. APFT Pass/Fail/Profile:
Date:
b. Height:
Weight:
Within Standard?
(Comments required for "Failed" APFT, "No" APFT, or "Profile" when it precludes performance of duty, and "No" for Army Weight Standards.)
c. CHARACTER: (Include bullet comments addressing
COMMENTS:
Rated NCO's performance as it relates to adherence to
Army Values, Empathy, Warrior Ethos/Service Ethos, and
Discipline. Fully supports SHARP, EO, and EEO.)
MET
DID NOT MEET
STANDARD
STANDARD
Page 1 of 2
DA FORM 2166-9-1, NOV 2015
APD LC v1.00ES
DA Form 2166-9-1 Instructions
The DA Form 2166-9-1 is regulated by the Department of the Army Pamphlet 623–3 (Evaluation Reporting System) released in November 2015. The information within the form is divided into five categories. This includes administrative data, authentication, duty description, performance evaluation and an assessment of the officer's potential for growth and development.
The first part of the form requires the evaluated NCO's personal information. The rater should provide the name, e-mail address and social security number of the NCO, information about their unit, rank, the reason for submission, the periods covered by the evaluation, the number of rated months, nonrated codes and number of enclosures.
The second part includes information about the rater and senior rater. This section provides their names, social security numbers and email addresses.  There is additional space for specifying their rank, service branch and organization. Both parties should sign and date the document correctly in the appropriate columns.
In case the evaluation process requires a supplementary review, an entire section of the second part of the form is dedicated for the information about a supplementary reviewer.
The final sections of the form are to be completed by the person in charge of performing the evaluation. After all sections are filled in and completed, the person making the evaluation should provide an overall rating of the NCO's performance. This should include an assessment of the Sergeant NCO's potential for growth with the options being "most qualified", "highly qualified", "qualified" or "not qualified".
The section near the box for rating also provides space for any additional comments concerning the evaluation and the particular NCO's potential and performance. The form is to be certified with all applicable signature and dated correctly before submission.
DA 2166-9-1 Related Forms