DA Form 1970 House Staff Evaluation Report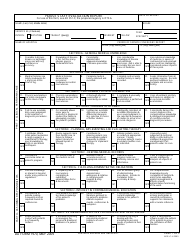 What Is DA Form 1970?
DA Form 1970, House Staff Evaluation Report is a non-mandatory document associated with the evaluation of progression and performance required for each Graduate Medical Education (GME) program participant.
The latest version of the form - sometimes confused with DD Form 1970, Motor Equipment Utilization Record - was released by the Department of the Army in May 2009 with all previous editions being obsolete. An up-to-date fillable DA Form 1970 is available for download down below or can be found on the Army Publishing Directorate website.
DATE OF REPORT
HOUSE STAFF EVALUATION REPORT
For use of this form, see AR 351-3; the proponent agency is OTSG.
NAME (Last, First, Middle Initial)
GRADE
SERVICE AS (Check one)
YEAR
INTERN:
ROTATING
STRAIGHT (Specify)
RESIDENT
FELLOW
SPECIALTY
NAME OF HOSPITAL
PERIOD OF SERVICE COVERED BY REPORT
FROM (Day, month, year)
TO (Day, month, year)
SECTION A - GENERAL MEDICAL KNOWLEDGE
1.
2.
Knowledge of disease
3.
Consistently
4.
Has considerable
5.
Is unable to discuss
Has extensive knowledge
disease or pathologic
is fair, but has many
demonstrates
knowledge of disease
of medicine, is aware of
obvious gaps in
adequate knowledge
and pathologic
processes with any
controversial and unsolved
confidence or
fundamental facts.
of disease processes.
processes, and is able to
areas and has intelligently
accuracy.
accurately discuss most
considered various aspects
N?A
N?A
N?A
N?A
N?A
areas of medicine.
of these prob.
SECTION B - OBTAINING MEDICAL HISTORY
6.
7.
8.
9.
10.
Medical histories are
Medical histories
Complete medical
Complete and accurate
Seeks information from all
available sources. Records
totally inadequate for
demonstrate
history obtained and
medical history is neatly
a physician at this
occasional
recorded.
recorded.
pertinent additions to a
level of tng.
inadequacies and/or
complete and accurate
inaccuracies.
history.
N?A
N?A
N?A
N?A
N?A
SECTION C - PERFORMING PHYSICAL EXAMINATION
11.
12.
13.
14.
15.
Physical examinations
Physical examinations
A thorough physical
A complete & unusually
Uses all pertinent ancillary
are totally inadequate
frequently demonstrate
examination is
skillful physical
techniques in addition to
for this level of tng.
inadequacies & or
consistently recorded.
examination is performed
an accurate & skillful
N?A
N?A
N?A
N?A
N?A
inaccuracies.
and recorded.
examination.
SECTION D - DIAGNOSTIC ACUMEN
16.
17.
18.
19.
20.
Consistently derives the
Fails to use available
Occasionally allows
Synthesizes available
Intelligently considers all
data, poor judgement
major gaps or
data into an accurate
available information &
correct diagnosis thru
in the selection of
excesses in diagnostic
differential diagnosis
uses sound judgment in
comprehensive knowledge
diagnostic procedures.
studies thru failure to
& is selective in choice
the selection & sequence
& intelligent interpretation
adequately consider
of further studies.
of studies to arrive at an
of carefully selected
the patient's problem.
accurate diagnosis.
diagnostic procedures.
N?A
N?A
N?A
N?A
N?A
SECTION E - PLANNING, IMPLEMENTING AND EVALUATING THERAPY
21.
22.
23.
24.
25.
Contributes little to
Rarely suggests more
Contributes to
Initiates patient care in
Unusually sound
initial patient evaluation
than routine care, &
planning patient care
an orderly & appropriate
judgement & technical
& rarely suggests a
failure to follow a
& reevaluates patient
manner. Closely
ability is reflected by his
modification of therapy,
patient closely has
frequently to initiate
observes patients course
intelligent & aggressive
poor knowledge &
allowed lapses in
changes or implement
& astutely modifies care
management of all
therapy.
therapy.
as indicated.
patients under his care.
ability in procedural
techniques.
N?A
N?A
N?A
N?A
N?A
SECTION F - KEEPING MEDICAL RECORDS
26.
27.
28.
29.
30.
Infrequent &
Occasional voids in
Maintains neat &
Neat & accurate
Clear & comprehensive
inaccurate notes on
the medical record.
accurate records at
progress notes are
records intelligently
uniformly concise and
patient's progress.
appropriate intervals.
interpret all aspects of
N?A
N?A
N?A
N?A
N?A
informative.
patient care.
SECTION G - FULFILLING ADMINISTRATIVE OBLIGATIONS
31.
32.
33.
34.
Has an excellent grasp
35.
Has little knowledge
Is frequently lax &
Consistently
His comprehensive
or interest in hospital
inaccurate in
demonstrates
of administrative
knowledge & early
and/or army policies &
completing &
willingness & initiative
procedures. Initiates &
completion of hospital &
regulations.
submitting
in complying with
completes forms
army forms expedites
administrative forms
hospital & army
accurately & timely.
patient management &
regulations.
& documents.
affords smooth
administrative functioning
N?A
N?A
N?A
N?A
N?A
of the ward.
SECTION H - INTEREST IN CONTINUED MEDICAL EDUCATION
36.
37.
38.
39.
40.
No evidence of
Little evidence of even
Reads standard
Consistently contributes
An omnivorous reader
outside reading.
text book knowledge
literature pertinent to
current knowledge
actively participates in
his patient's problems.
relative to his patient's
Frequently misses
of his patient's
rounds & conferences,
required rounds &
problems.
Attends required
problems.
supports his statements
conferences.
rounds, conferences &
with accurate reference.
autopsies.
N?A
N?A
N?A
N?A
N?A
SECTION I - ESTABLISHING EFFECTIVE PHYSICIAN-PATIENT RELATIONSHIP
41.
42.
43.
44.
45.
Avoids personal
Is unskillful in eliciting
Is aware of the
Is skillful in eliciting &
Exerts a very positive
contact with patients
or managing the
personal & emotional
dealing with the
influence upon the outlook
& is frequently
personal & emotional
problems of each
emotional & personal
of his patients & enjoys
tactless.
problems of a patient.
patient.
needs of patients & their
the confidence of their
families.
families.
N?A
N?A
N?A
N?A
N?A
PREVIOUS EDITIONS ARE OBSOLETE.
PAGE 1 OF 2
DA FORM 1970, MAY 2009
APD LC v1.00ES
DA Form 1970 Instructions
Filing procedures for the DA Form 1970 are as follows:
The form requires the name, grade, intern status (rotating or straight) and specialty of the participant along with the name of the hospital and the period of service covered by the report.
Part I of the DA 1970 covers clinical performance and contains Sections A through F. Each section contains a scale from 1 to 4. T he participant's performance is numerically rated on each criteria within the provided range.

Section A assesses the level of general medical knowledge.
Section B is for evaluating the handling of medical history records.
Section C specifies the way the physical examinations are performed.
Section D evaluates diagnostic acumen.
Section E describes how well therapy is planned, implemented and evaluated.
Section F refers to the way medical records are kept.

Part II - Assuming Responsibilities - contains three more sections.

Section G assesses how well administrative obligations are fulfilled.
Section H shows the level of interest in pursuing further medical education.
Section I of the DA Form 1970 evaluates the participant's ability to establish an effective physician-patient relationship.

Part III - Personal Qualities Assessment - covers Sections J through M.

Section J evaluates the attitude and appearance.
Section K assesses the effectiveness of cooperation.
Section L is for evaluating the levels of leadership and responsibility skills.
Section M is for assessing the accuracy of self-evaluation and the role of the consultant.

Part IV of the form calls for an overall evaluation. This part requires counseling with the House Officers done by the Rater.
Part V contains recommendations for additional training in case any is needed.
Part VI contains an additional block for a narrative description of the participant's performance and personal qualities.
The DA 1970 needs to be verified by the signatures of the Service Chief, the Director of Medical Education and a hospital or facility commander.