Sample Thank You Letter for Scholarship Award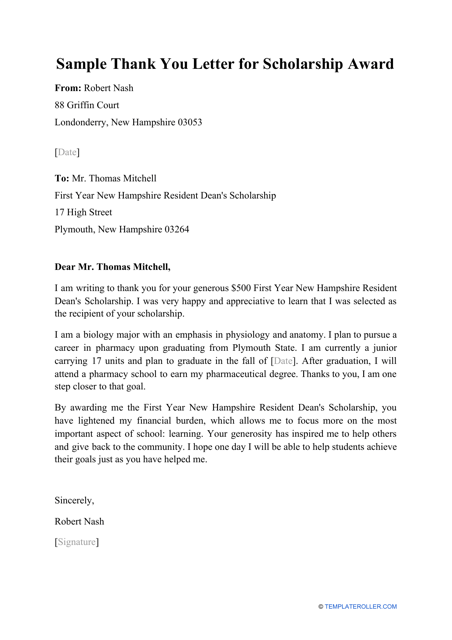 A Thank You Letter for Scholarship Award is a typed or handwritten document sent by a student to the individual or organization that granted them a scholarship with the intention to express gratitude. Whether you received confirmation of a future scholarship as support for your athletic achievements, were approved for additional financial support as a struggling student, or got a letter from a wealthy sponsor willing to help you with your education, you should thank the person, private business, or educational institution that awarded you with a scholarship.
Alternate Name:
Scholarship Award Thank You Letter.
Download a Sample Thank You Letter for Scholarship Award through the link below.
How to Write a Thank You Letter for a Scholarship Award?
These directions will help you to compose a perfect Scholarship Award Thank You Letter:
Start with a salutation. It is better to include the name of the person who made a decision to assist you with a scholarship; if you got a scholarship from the organization, write down its name and names of the people most likely responsible for the scholarship - members of a specific committee or a director of the company, for instance.
Indicate your name and the name of your school or college. State the purpose of the letter right away - you want to thank the recipient for granting you a scholarship. Although it is a formal letter and it is recommended to remain calm and professional, it is not a bad idea to share your heartfelt emotions in the note to show the reader how much their help means to you.
Describe your academic experience and list your plans for the future. Tell the recipient how the scholarship will assist your studies - maybe, you will use the money to buy supplies, pay for tuition, or afford an apartment closer to your college.
Promise the person or entity that provided you with a scholarship you will devote yourself to your studies to achieve great things with the financial support they have given you.
Sign and date the letter. Send it as soon as the scholarship is confirmed.
---
Haven't found the template you're looking for? Take a look at the related templates and samples below:
Download Sample Thank You Letter for Scholarship Award