Thank You Letter to Principal Template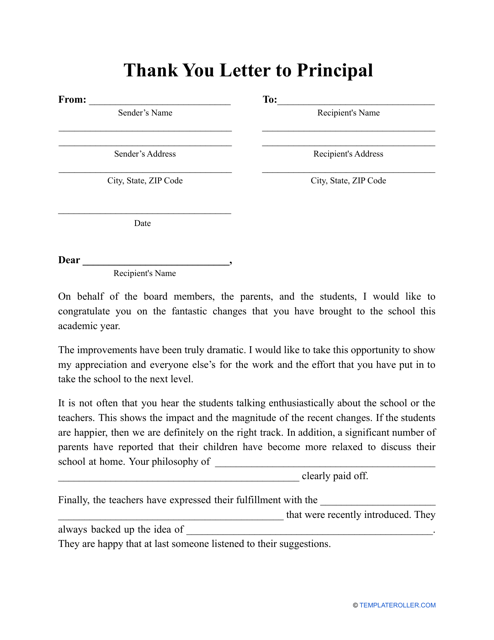 Fill PDF Online
Fill out online for free
without registration or credit card
A Thank You Letter to a Principal is a written document prepared to thank the school principal for their efforts aimed at the improvement of the school and the well-being of students.
Alternate Name:
Appreciation Thank You Letter to Principal.
Whether you want to demonstrate your gratitude to the recipient after your child was admitted to school, praise the safe and encouraging learning environment the principal has maintained at the institution, or congratulate them with the upcoming holidays after a successful academic year, prepare this note and send it to the principal in your own name or on behalf of the parent committee.
A Thank You Letter to Principal template can be downloaded below.
Ensure you speak formally and politely when showing appreciation for the work the principal has done for your children and other students - Greet the letter recipient, say "thank you" and indicate the positive things the principal has accomplished and you are grateful for, illustrate the impact of their decisions on the learning culture and children's grades, highlight the recent changes at the school you have welcomed, and reiterate your support for the principal in the months and years to come.
Sample Thank You Letter to School Principal
Patricia Ardente
School Principal, Brookfield High
100 Oak Avenue
Milwaukee, WI, 37963
Dear Mrs. Ardente
I am writing this message of gratitude to say thank you for the sincere and constant support you have given my son Joseph to help him adjust to his new school environment. The last few months have not been easy for him considering our relocation and the necessity to transfer him to a new school, but with your encouragement, Joseph has managed to thrive in these new circumstances. Your suggestions to sign him up for after-school activities have made a huge impact on his life - now Joseph shows interest in sports and is a regular member of the chess club. I and his father could not be prouder of him, and we recognize your contribution to his life.
Besides, I became involved in the work of the parent committee, and other parents and legal guardians have shown me how perceptive you are when it comes to complaints and proposals intended to improve the school life of our children. I have been very impressed with the quality of education at Brookfield High - the teaching strategies implemented here and the constant communication between parents, teachers, and school administrators benefit the young generation.
Once again, I appreciate all the efforts you have made to enhance and upgrade the school and promote a positive connection between all the people that come to this place every day. In case you need any help to arrange school or after-school events or fundraisers, do not hesitate to contact me - I have experience when it comes to event planning, and I promise to show you the support you have shown the students of your school.
Sincerely,
Marcia Franklin
---
Still looking for a particular template? Take a look at the related templates below:
Download Thank You Letter to Principal Template