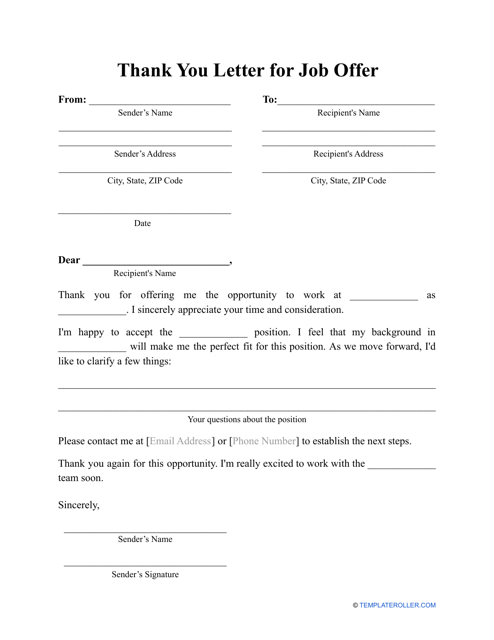 Fill PDF Online
Fill out online for free
without registration or credit card
If you have recently been offered a job opportunity, it is a good idea to send the employer a Thank You Letter for Job Offer , whether or not you accept the offer.
Alternate Name:
Job Offer Thank You Letter.
This letter demonstrates that you are a responsive worker and courteous to the sender's efforts. If you decide you do not want the opportunity you can briefly let them know that you have decided to go in a different direction so that they can notify other potential candidates who may also be waiting. If you decide to accept the role, your letter can stand to your new company as an example of the type of worker you are.
Make sure this reply is sent within a few days of receiving the offer so the company is then able to begin the process of onboarding you as a new employee or notifying the next candidate on their list. This letter can be sent through physical mail or via email.
A Thank You Letter for Job Offer template can be downloaded below.
How to Write a Thank You Letter for a Job Offer?
To write a Thank You Letter for a Job Offer, include the following:
Today's date.
Name of the recipient and address of the company. You can address the recipient of your letter to the person who notified you of the opportunity.
Your name and address.
Memo line with wording such as, "Thank You for the Career Opportunity at Alphabet Industries."
Opening salutation.
Begin the letter by thanking the recipient for their time in interviewing you for the position and offering this career opportunity.
Should you decide to turn down the offer, kindly tell the recipient you have decided you are not interested in the job opportunity. You do not need to state a reason why you are turning down the role, and you can end your letter shortly thereafter.
If you decide to accept the new role, affirm that you are glad to accept the position and provide the business a start date for the earliest day you are able to begin working (usually two to three weeks is an acceptable period to allow you to wrap anything up at a current role).
You can also address any questions that might have come up after the interview concluded, such as benefit options, who your supervisors will be, and so on.
Avoid bringing up a negotiation about the given pay scale or other benefit-related inquiries in this letter. You can request to speak with the supervisor about specific details of the role, but for now, leave this for a later date.
Close by telling the recipient you look forward to taking the next steps in the onboarding process and that you are excited to join their team.
Provide them with a phone number and email address where they can reach you.
Closing salutation.
Your name and signature.
Sample Thank You Letter for Job Offer
January 2, 2022
Arthur Mosley, Alphabet Industries
1234 Grantham Way
New York, NY
Edith Crawley
1515 Steelhead Way
New York, NY
Response to Job Opportunity at Alphabet Industries
Dear Mr. Mosley,
Thank you very much for extending me the offer to be your next Manager of Office Administration. I am very grateful to accept the position and begin working for your office soon. I will be able to start in two weeks so that I may notify my current place of work and transfer my duties to another person.
As noted in the job description, this role will be a standard full-time role, with part of the week working remotely and the other part in the office (to be determined). The salary is listed as $30-$40 per hour, depending on experience.
After the interview, I did have a couple of questions that I wanted to ask, especially now that I will soon be completing new hire paperwork. Do you have a list available of what the benefits will be as a full-time employee at Alphabet Industries, and is there any probationary period I should make note of before the benefits become active? I will need to alert my coverage provider about the change and make any necessary arrangements.
Please let me know who I should reach out to about completing all new hire paperwork and I will be happy to contact them to get the process started. If you have any other questions for me in the meantime, I am more than happy to help answer them.
Again, I am very grateful for this opportunity and I am excited to be your next Manager of Office Administration with Alphabet Industries.
Best Regards,
Edith Crawley
---
Haven't found the template you're looking for? Take a look at the related templates and samples below: