Job Offer Letter Template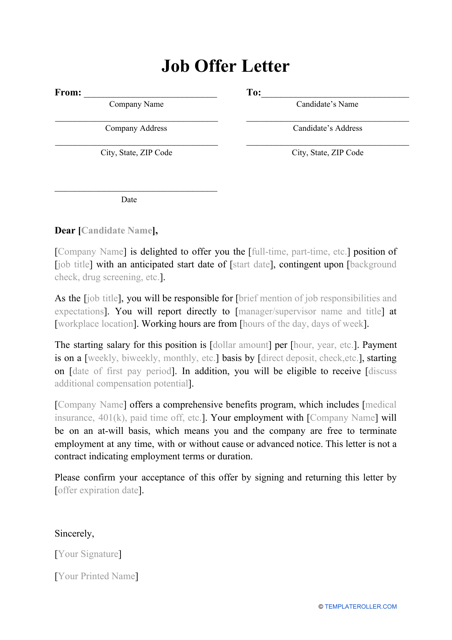 What Is a Job Offer Letter?
A Job Offer Letter is a letter sent to the candidate after an initial verbal offer of employment. Naturally, before the job offer is sent out, a background check must be done and other contingencies verified. This is a formal document offering a position to a job applicant and as such it lists details about the role and responsibilities the job entails.
Alternate Names:
Job Offer Acceptance Letter;
Employment Letter.
These details are meant to help the candidate make a balanced decision on whether or not to accept the offer. It may also serve as a get-go that commences employment negotiations. In the case of a positive outcome, the candidate returns the letter with their signature. Although it is not a legally binding employment contract, your job is to compose it in such a way that your interests are protected.
A printable Job Offer Letter template is available for download below. You can customize this document and modify or add specific terms and benefits your company can present. Whether your offer is on paper on in email format, it is wise to have written confirmation of the employment conditions.
What Is Included in a Job Offer Letter?
An Employment Letter provides a brief overview of the position and company by including job-related details, such as the start date, salary, work hours, and benefits. Make sure that your letter includes the following:
Your company logo. An official letterhead is to be used if you want to be treated seriously.
The current date and contact information. This information is added to the upper left-hand corner.
A greeting - depending on your corporate culture you can make this opening line sound as formal or as exciting as you wish.
Job details. Provide the specifics and logistics of the position offered, the job title and description. This is the most important part of your letter as it helps clarify issues that may have been misunderstood or missed during the job interviews.
Contingencies. These may include a background and references check, a drug test, USCIS Form I-9, a Confidentiality Agreement.
Compensations. Salary information, equity, bonuses, commission, and anything else that applies.
At-will status. Any state in the USA except Montana is an at-will state, which means both the company and employee are allowed to terminate employment at any time for any reason; do consult a lawyer for legal guidance on the matter, this way you are sure to avoid any unintended consequences.
Benefits. There is no need to go into a lengthy and detailed description; it suffices to list most basic and attractive benefits your company offers, for example, insurance coverage, 401(k) plan, paid time off, flexible work hours or work from home options.
Expiration date. If you want to place an expiration date on the offer, consider giving the candidate at least a week to come up with a decision.
A disclaimer may be helpful to avoid any confusion, in which case you briefly mention that this letter is not a binding document.
Just as you began your letter with an upbeat statement, end it with a note of excitement about the prospective collaboration and welcome the candidate to your company.
If this is the first time your company writes a Job Offer Letter, you may wish to consult a lawyer who will assist you in using the professional jargon that does not carry contractual implications.
---
Not what you need? Check out these related letter templates:
Download Job Offer Letter Template