Thank You for Recommendation Letter Template - Career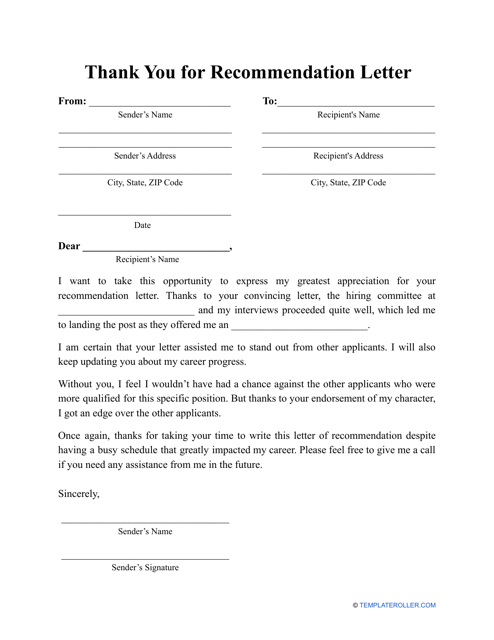 Fill PDF Online
Fill out online for free
without registration or credit card
A Thank You for Recommendation Letter is a written document composed by an individual after they receive a Recommendation Letter from their current or former professor, employer, or peer. Whether you believe you can ask the person for another favor in the future or this is the last thing they ever do for you, take several minutes of your day to draft a note that shows your appreciation for their help - it is a polite gesture that will not go unnoticed.
You can download a sample Thank You Letter for Recommendation Letter via the link below.
How to Write a Thank You Letter for a Letter of Recommendation?
Follow these steps to prepare a Thank You Note for Letter of Recommendation:
Consider drafting a handwritten letter or at least sign it with your own hand - this will have a bigger impact on the recipient who will see your gratitude.
Start with a brief introduction. Mention the addressee by name and remind them about the recommendation they offered you to help you to get a job, enroll in the university, or obtain a scholarship. You should give your thanks for the reference they provided and mention a certain detail from the recommendation you were especially pleased with.
Update the recipient on your progress - if you decide to say Thank You for Writing a Letter of Recommendation immediately upon receiving one, you can tell them you are going to attach their note to your application package or send it separately to the person or entity that requested it. Alternatively, you can wait for a successful outcome of your application and tell the individual who referred you how their recommendation influenced the board of admissions or your new employer.
Add personal details - if you asked your mentor or employer for a reference, it must mean you trust them to judge you fairly and you have enjoyed a good relationship. Inform the recipient about their positive influence on your life and explain just how much a recommendation means to you. Refer to your previous conversations and make plans with the recipient if you continue to maintain a professional connection with them.
End the letter with words of gratitude - say "thank you" again and promise to stay in contact in case the recipient wants to reach out to you.
---
Haven't found the template you're looking for? Take a look at the related templates and samples below:
Download Thank You for Recommendation Letter Template - Career