Recommendation Letter for Internship Template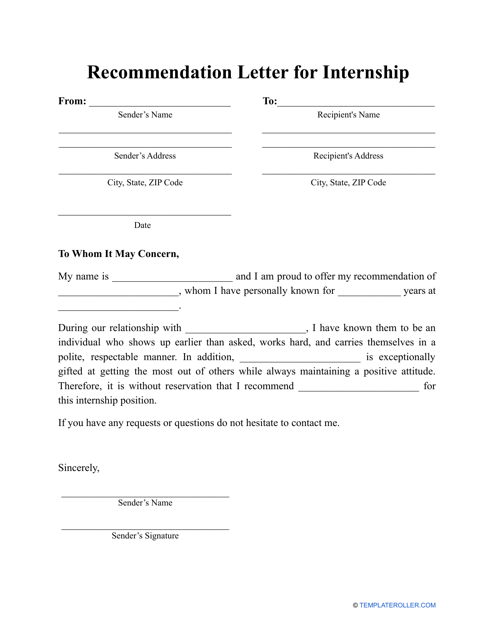 Fill PDF Online
Fill out online for free
without registration or credit card
An Internship Recommendation Letter is a written character reference presented to a corporation or organization by a prior teacher or employer showing the candidate's main skills for this vacancy. Because internships are essentially unpaid positions, they are often easy to obtain. However, a letter of reference is required for high-level positions in order to verify that the candidate chosen has the necessary skills for the position's day-to-day duties.
Alternative Names:
Internship Recommendation Letter;
Internship Reference Letter;
Internship Letter of Recommendation.
A Letter of Recommendation for Internship template can be downloaded below.
Before graduating, many colleges and institutions require students to complete internships in professional settings. Internships are not required, but they can be beneficial to students because they offer them work experience. A recommendation letter would be useful in this situation for various reasons.
A Letter of Recommendation for an Internship outlines why the applicant is qualified for the position for which they are applying;
It demonstrates that the student in question has the requisite abilities and knowledge for the post;
It also supports a compensated internship or high-level job in the organization.
It's preferable if your Internship Reference Letter is written by a former professor or employer who knows you well and can speak to your character and work ethic. If you desire an internship, find someone who knows you personally rather than relying on a label to prove your qualifications.
How to Write a Letter of Recommendation for an Internship?
Letterhead. The first section of an Internship Recommendation Letter is normally written before the main body of the letter and includes your email address, physical address, and phone number. The recommender's contact information is proposed For future communication;
Introduction. Explain your relationship with the person you're considering, including how long you've known them;
Main Body 1. Explain why the student is a good fit for the internship and how they will benefit the organization. Include examples of the person's experience and credentials;
Main body 2. Summarize your recommendation by saying you "highly recommend" or "strongly recommend without reservation" the candidate. These essential lines show that you strongly endorse the recommendation; anything less enthusiastic implies that you do not entirely support the individual;
Conclusion. Offer to supply extra information and close the letter with a professional letter closure, your name, and title.
If you are sending a hard copy of the letter, include your signature beneath your typed name.
Having an example of an Internship Letter of Recommendation to refer to might also help you generate ideas for your own letter. Make certain that your cover letter is targeted at the internship requirements.
---
Haven't found the template you're looking for? Take a look at the related templates and samples below:
Download Recommendation Letter for Internship Template