Sample Web Developer Resume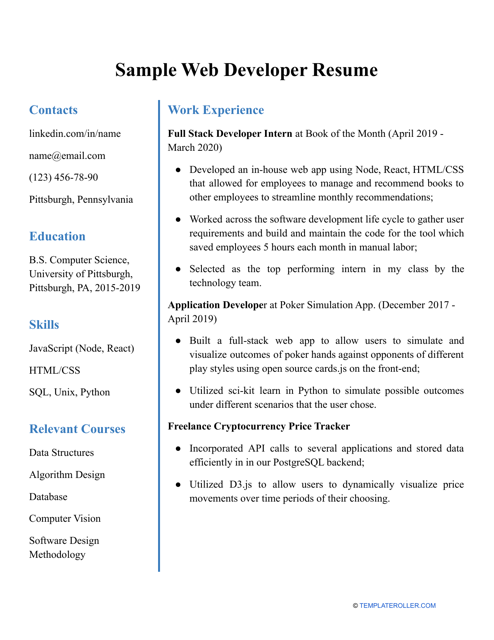 A Web Developer Resume is a formal document prepared by a web developer who wants to capture the attention of their potential employer, present their qualifications, and land an interview to discuss employment. Whether you are an experienced web developer who has worked for years in this industry or your ambition is to make your first steps in building and maintaining websites, a properly drafted resume will help you introduce yourself and make a good impression right away.
Download a free Web Developer Resume Sample via the link below. You may use the Web Developer Resume example we provide or create your own document from scratch using the advice from our guide.
Web Developer Resume Format
To properly showcase your qualifications, you need to present them accordingly. See how to create an easy-to-read resume and start or continue a career in web development:
Do not exceed one page. Since the resume is concise and it contains a brief description of your career so far, you will have the opportunity to talk more about your accomplishments during the interview when asked about them.
Keep the document consistent - you should bold, italicize, and underline the things your future employer will notice first like your main skills and former jobs.
Choose a professional font - Times New Roman or Arial are the most appropriate options. Use 1.0 line spacing and one-inch margins.
Do not include any images or graphics in the resume. If you want to share your portfolio, you may offer the hiring manager to scan through a separate document or attach an electronic copy of the portfolio to the e-mail if you file the documents online.
Trust a spell-checker to a degree - reread the resume before you print it out or submit the documentation online.
How to Write an Effective Web Developer Resume?
Use the Sample Web Developer Resume summary for reference to learn what to include in your own resume when submitting a job application package:
Start with your full name and contact information. These details must be easily accessible - put it at the top of the page to let the hiring manager reach out to you as soon as they decide you should be interviewed in person.
Compose a resume objective - a short statement that tells the hiring manager about your accomplishments and explains why you would be a perfect fit for the job in question. Research the company that advertised the job to find out what they are looking for and try to offer something the business is missing at the moment.
It is recommended to use a reverse chronological order when telling your future employer about your professional experience if you believe they should revert their attention to the latest job you are most proud of. In case your experience does not exceed one or two years or you are preparing a freelance Web Developer Resume, stick with the traditional order.
Outline your professional experience. List the names of your former employers, job titles, and briefly indicate the duties you had to carry out. It may be a good idea to focus on one or two accomplishments the company and its customers benefited from most - show which issues were presented to you and which tools you have used to deal with the problem. For instance, you can say that you have designed and developed a user-friendly website for the organization and trained the company personnel to make minor changes to the website layout.
Another significant section of this document is the list of your skills. For instance, if you are writing a Junior Web Developer Resume and you do not have much experience but your education allows you to work even without experience, skills should be the highlight of your resume. Consider putting your skills in three columns - hard and soft skills and programming languages knowledge:

Hard skills - Photoshop and WordPress skills, basic graphic design knowledge, debugging experience, application testing;
Soft skills, or interpersonal skills - active listening, collaboration, good work ethic, positive attitude, adaptability to client's wishes;
Programming languages - HTML, CSS, Javascript, Python, PHP.

Describe your academic accomplishments whether you have a degree in web development or some other field. Sometimes even the best Web Developer Resume does not contain references to prestigious educational institutions so do not worry about this section too much if you can offer hands-on experience instead. State the school or university you attended, say how long you have studied, and name the degree.
---
Haven't found the sample you're looking for? Take a look at the related samples and templates below:
Download Sample Web Developer Resume