Resume Template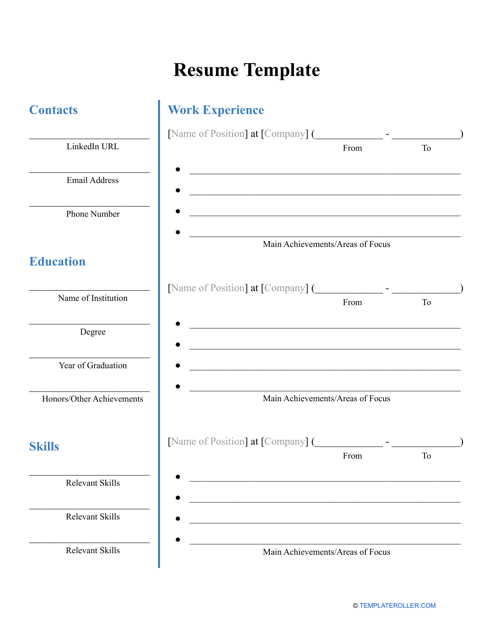 What Is a Resume Template?
A Resume is a written statement prepared by a job candidate to outline their qualifications and skills for a position they are interested in. One of the most important documents to draft when applying for a job, it will introduce you to the prospective employer, describe your academic and professional experience, and secure an interview. The Resume objective is to share the overview of your achievements in the professional sphere and stand out among other people interested in the position especially if you know it is hard to get an interview with this company.
You can download a generic Resume Template through the link below.
Although there is no uniform Resume format applicable to every situation, all the best Resume Templates have several sections in common: a brief description of your qualifications, details of your education and previous experience in the field, and an explanation of your advantage over other job applicants. A Resume of one or two pages should leave a long-lasting impression on the human resources department and advance your career whether it is your first job after graduation or you are looking for a new challenge to improve yourself.
How to Make Your Own Resume Template?
Wondering how to create your own Resume Template? Looking to learn more about what makes a good Resume? Follow the instructions to draft a document you will be able to use for multiple jobs:
It is highly recommended to personalize a resume and even include different details depending on the recipient of the letter - for instance, you may emphasize your fluency in several languages if the vacancy asks this from the applicant.
Start with the introduction - write down your name and contact information. Add links to social media profiles if necessary. In case the Resume is more than one page, insert the header on every page.
Include the job title that attracted your attention right away to help the hiring manager categorize the application.
Outline your academic experience whether it is relevant to the job in question or not.
Provide a summary of your professional accomplishments - list the jobs you have had before, indicate how long you have worked for other employers, and state the names of positions you have held in the past. You may add the contact information of your former employers in case they have agreed to provide you with the recommendation.
Record the skills that distinguish you from other potential applicants - make sure the list is concise and does not include qualifications you do not actually have.
Indicate your personal traits that will help you succeed and make the company better - good decision making, leadership, flexibility, determination, and the ability to work well under continued pressure.
If the vacancy demands particular experience, you should focus on composing a functional Resume - showcase your professional strengths and explain how the employer can benefit from hiring you. Since competition in the job market is ruthless, you must impress the employer by highlighting what you will bring to the table.
---
Not what you were looking for? Take a look at the related templates below: