Church Donation Receipt Template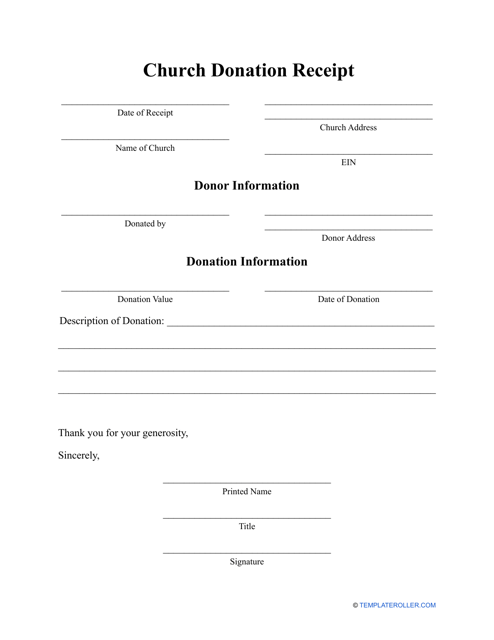 Fill PDF Online
Fill out online for free
without registration or credit card
What Is a Church Donation Receipt?
A Church Donation Receipt is a document that keeps a note of any donations gifted to a church. It is important to fill this receipt in correctly and state who donated the funds, what was donated and most importantly - the specific sum of the donation.
Alternate Name:
Church Donation Receipt Letter.
The reason for this is that many individuals who make such donations can use this document when submitting their taxes. This can be done because churches are legally exempted from taxes (in every state) and if an individual has made such a donation, they can subtract the donated sum from their overall yearly income. Without a Church Donation Receipt, this will be impossible to prove.
Of course, this only applies to larger donations; if you simply submit a small fee during a standard church service then you should not expect to receive a receipt. Receipts are only handed out to the bigger donations. Make sure that you request the receipt at a suitable time to ensure that the church has enough time to process, prepare and issue the receipt.
A Church Donation Receipt template can be downloaded by clicking the link below.
How Do I Write a Donation Receipt for a Church?
If you want to write up a Donation Receipt for a Church, you need to include the correct information so that the receipt can be used by the donating party in the future for their personal needs. This information should include:
Details about the church: most importantly the location and name;
The Federal Tax Identification number of the church. All churches should have this number as it proves that they have an exemption from paying taxes;
The details of the donating party - including their full name, permanent address and their date of birth;
Specific details about the donation made. If the donation was money, the amount should clearly be specified. However, these receipts do not only cover donations in the form of cash. Any other gifts such as clothes or equipment will also be counted;
The date that the donation was gifted to the church.
---
Haven't found the template you're looking for? Take a look at the related templates below:
In Kind Donation Receipt Template;
Download Church Donation Receipt Template