Divorce Settlement Agreement Template - Wisconsin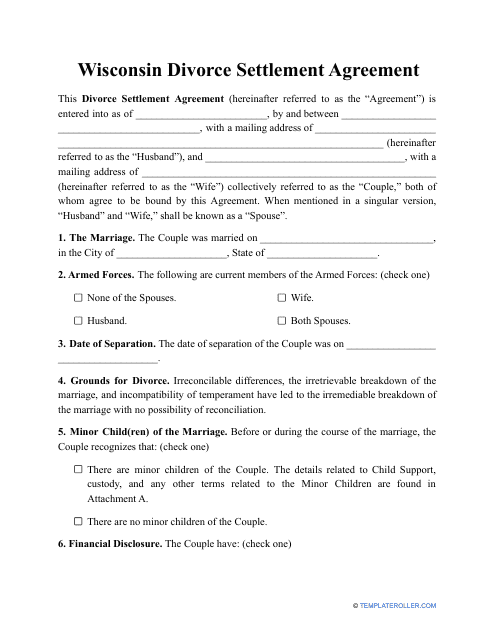 Fill PDF Online
Fill out online for free
without registration or credit card
Wisconsin Divorce Settlement Agreement: What Is It?
A Wisconsin Divorce Settlement Agreement is a document that is created and signed by two ex-spouses that are initiating divorce proceedings.
Alternate Names:
Wisconsin Marital Settlement Agreement;
Wisconsin Divorce Agreement.
The agreement needs to be filed with the Circuit Court that is local to your area. The main reason for drafting this type of agreement is to clearly detail and outline all conditions agreed upon by both former partners.
The subjects worthy of talking about that need an agreement are:
Decisions concerning the custodial rights of parents i.e. which type of custody each parent will get. These are one of the more important decisions to make;
Agreements on any financial compensation which may come in the form of child support for children or alimony for the former spouse;
Any assets purchased during the marriage would need to be divided in a fair way, not necessarily equally;
If any debts are left outstanding this can also be divided between both parties as they see fit.
A Wisconsin Divorce Settlement Agreement template can be downloaded by clicking the link below.
How to File for Divorce in Wisconsin?
To make sure that the settlement after the divorce is fair and respectable to both parties; both individuals should seek to be completely transparent when it comes to revealing their full assets and income. If a judge makes a positive decision in relation to the case and implements the agreement on a legal level, the individuals outlined in the document would be legally obliged to abide by them.
In Wisconsin, the whole process will at least 120 days - a rather lengthy period of time. There is also a filing fee of $150 that needs to be paid to the Circuit Court. To begin the process you should:
Gather all of the important documents specific to your circumstances and file them to the appropriate court;
If there are any mutual children then the parents will need to attend a training program for parents to make sure that they are ready to bring up the children after the divorce;
A final hearing will be scheduled and during this time period you will need to submit other additional documents including the Marital Settlement Agreement;
Attend the final hearing and await the final decision from the judge. If a judge rules in favor of the divorce, you may legally change your name.
---
Haven't found the template you're looking for? Take a look at the related templates and forms below:
Download Divorce Settlement Agreement Template - Wisconsin