Free Georgia Bill of Sale Forms and Templates
What Does a Georgia Bill of Sale Look Like?
Georgia Bills of Sale are legal documents used by two individuals or an individual and an entity to transfer an ownership interest in various personal items. They record the legitimate agreement between a seller and a buyer to enter into a transaction. Essentially, it states that the property does not come with guarantees or warranties, it is being sold in the current condition, and it now belongs to the buyer, while the seller no longer bears liability for the item. If you want to draft your own Georgia Bill of Sale, you can browse the templates below to find the one you need.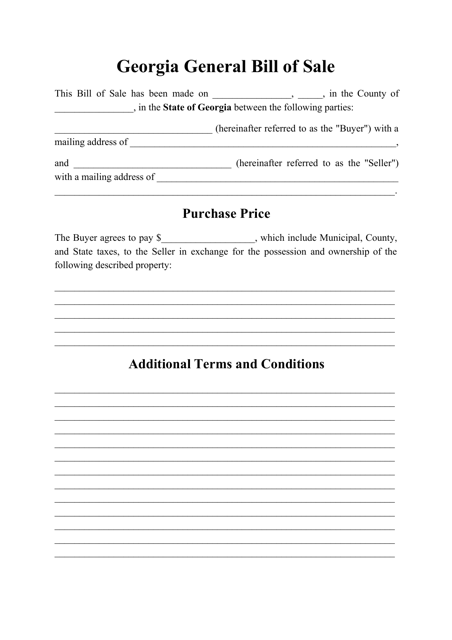 PDF
Use this form as a legal document to record your transaction of a sale or purchase of any kind. Usually, this document is employed in cases of a transfer of ownership of any type of personal property that can be sold or purchased.
Do You Need a Bill of Sale in Georgia?
A bill of sale is crucial for any transaction to show the transfer of an item from one person (or entity) to another actually took place. It verifies the purchase and identifies you as a legal owner of the property. Additionally, it releases the seller from any responsibility in the future and protects both parties from potential disagreements, so make sure you pay close attention to the bill of sale at the time of the sale.
If you wish to sell or purchase a motorized vehicle or a boat, it is required to write a bill of sale. After the purchase is completed, the buyer has to register the item, and it is not possible to do so without the documentation. The item is registered with the Georgia Motor Vehicle Division or the Georgia Department of Natural Resources respectively. Nevertheless, it is a good idea to draft a bill of sale for any item if you want to keep the document for tax purposes, for example.
Georgia Bill of Sale Requirements
The state of Georgia has issued two official Bills of Sale – for vehicles and boats. However, there are no government-released forms available for firearms. You may complete and use a generic sales slip if it follows state requirements. To create a Bill of Sale in Georgia, you need to:
State personal information of the parties. Write down their full names, addresses, and personal identifying information (usually it is enough to put in the driver's license number);
Describe the property. You have to provide various particulars of the property in question including its serial number, size, model, color, possible faults and defects, and distinguishing characteristics;
Write down the date the transaction takes place;
Enter the sum of money paid and the method of payment;
Sign the document. Either the parties or their legal representatives, have to identify themselves.