Vendor Invoice Template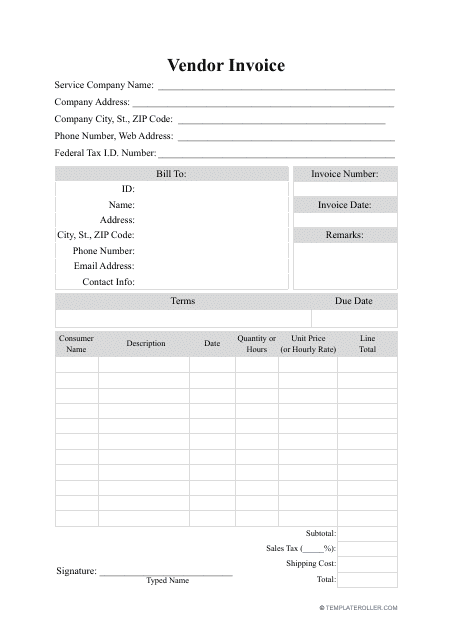 Fill PDF Online
Fill out online for free
without registration or credit card
What Is a Vendor Invoice?
A Vendor Invoice is a written statement prepared by the supplier and sent to the customer (vendor) to request payment for the services and goods on credit. When a client places their order to get the products they want, the supplier is supposed to draft and formalize an invoice to list the terms of sale and purchase.
Ensure the Vendor Invoice contains all the essential elements that make this document legally binding - the invoice will serve as evidence of the arrangements the parties have made during the negotiations.
You may find a Vendor Invoice template through the link below.
How to Invoice a Vendor in Quickbooks?
Consider adopting Vendor Invoice Automation - if you download accounting software, you will be able to implement Vendor Invoice processing tools to record the flow of the organization's money and analyze your financial standing. One of the most popular accounting programs used by small businesses and large companies alike is Quickbooks - you can automatically deal with bookkeeping tasks saving time and money. Here is how you can draft an invoice for a vendor using Quickbooks:
Click on + New and choose Invoice to open a new document.
Scan the drop-down list and select a customer. Check their shipping and billing details to make sure everything is correct.
Indicate the due date of the invoice with the help of the drop-down list Terms.
Select products and services you are providing - to add a new item, click + Add new.
Record other conditions of the sale - the quantity and rate of the items.
Enter the goods and services tax.
Once you are done, click save and send - or simply send the document to the client via e-mail.
How to Apply a Credit to a Vendor Invoice in Quickbooks?
When a client returns the goods they purchased from you or cancels the order, you have to record a credit transaction and apply the credit to an invoice. Alternatively, it is possible to keep a credit memo you have issued and apply it to a future invoice you issue to request payment from the customer. Follow these steps to apply a credit to the Vendor Invoice:
Add a new account to monitor the value of your assets and debts - a temporary bank account (clearing account) to contain amounts you will later transfer to another account. To do it, open the Chart of Accounts, choose Bank, and save the results.
Open the menu Company and click on "Make General Journal Entries" to create two entries:

Debit (Bank Account) and credit (Accounts Receivable). State the name of the client and click save;
Debit (Accounts Payable) and credit (Bank Account). Indicate the name of the business and save the entry.

Apply the credit by choosing "Receive Payments" in the menu Customers. Find the invoice, click "Set Credits" and select the ones mentioned in the entries above. Click Done and save the changes you have made.
---
Related Topics:
Wholesale Invoice Template;
Interim Invoice Template;
Download Vendor Invoice Template