Form 10-313 Vehicle Bill of Sale/Odometer Disclosure Statement - Arkansas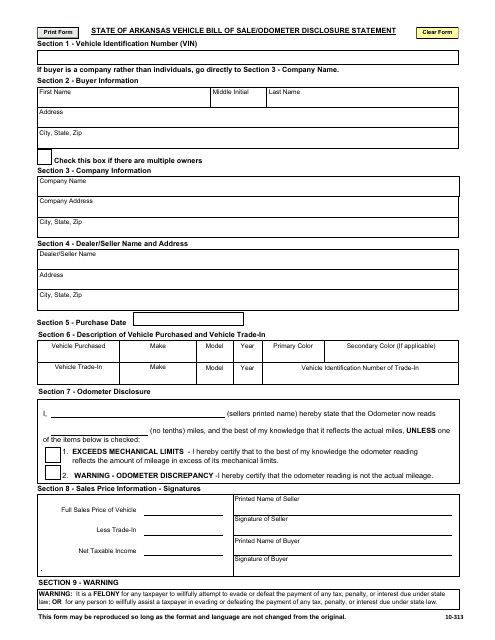 What Is an Arkansas Vehicle Bill of Sale?
Form 10-313, Vehicle Bill of Sale/Odometer Disclosure Statement is a vehicle bill of sale issued by the Arkansas Department of Finance and Administration. The document outlines the information about the sale and purchase of the vehicle and discloses the correct odometer reading at the moment of the transfer of ownership.
A PDF of the latest Form 10-313 can be downloaded below or found on the Department's Forms and Publications website.
This form is not as formalized as a deed or a title, however, it still represents a record of the vehicle sold. Additionally, it contains the odometer mileage reporting for the seller and the buyer to acknowledge. The transfer of ownership cannot happen unless the odometer disclosure is completed. It is also required to certify if the odometer reading does not represent the actual mileage creating the odometer discrepancy.
How to Sell a Vehicle in Arkansas?
Complete and sign the vehicle title (a legal document that states you are the legal owner of the vehicle) as a seller;
Provide the buyer with the odometer disclosure statement and sign the bill of sale;
Give the buyer all the documents relating to the vehicle;
Send the notice of transfer of ownership of a motor vehicle to the Department of Motor Vehicles.
Does a Vehicle Bill of Sale Have to be Notarized in Arkansas?
Bills of Sale in Arkansas do not require to be notarized. After the bill of sale is prepared and signed, the buyer has thirty days to register a vehicle in the local Revenue Office. Do not forget to purchase insurance to conform to state laws.
How to Get a Bill of Sale for a Car in Arkansas?
Form 10-313 is the standard document for all vehicle sales that occur in the state of Arkansas. This form meets the requirements for the bill of sale and is suited for individuals and companies alike. The bill of sale contains the vehicle identification number (VIN), the buyer/company information, the dealer/seller name and address, the date of purchase, the description of the purchased vehicle and trade-in vehicle, the odometer disclosure, the sale price, and the signatures of the parties. Also, the form warns the parties not to evade or defeat the payment of taxes, interest, or penalties; otherwise, they can be subject to a felony charge.
If a seller wishes to buy a new vehicle before or after selling the old car, it is possible to claim a tax credit, if the purchase took place within 45 days. In that case, it is necessary to use a Bill of Sale (Credit for a Vehicle Sold) to demonstrate the purchase of a replacement vehicle and receive a sales tax credit that is allowed for repossessions of motor vehicles.
---
Didn't find what you were looking for? Check out these related forms and templates:
Form 10-337, Vehicle Owner's Application for Issuance of Van Accessible Decal Physician or Advanced Practice Registered Nurse Certification;
Download Form 10-313 Vehicle Bill of Sale/Odometer Disclosure Statement - Arkansas