Free Arkansas Bill of Sale Forms and Templates
What Is an Arkansas Bill of Sale?
An Arkansas Bill of Sale is a handwritten or typed document designed to assist residents of Arkansas in recording a legitimate agreement and transaction between the seller and the buyer of any personal property. Irrespective of the property being sold, you can use a bill of sale to have further proof of sale and purchase of personal property. Basically, the form certifies that the property is being sold in the current condition, does not come with warranties or guarantees, and now belongs to the buyer, with the seller no longer bearing responsibility for the item.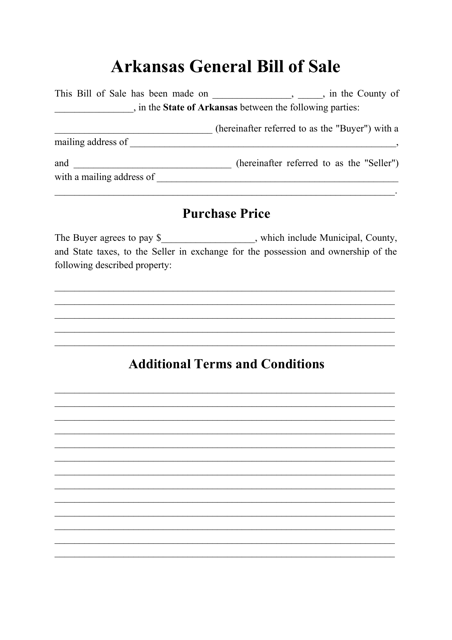 PDF
The Arkansas Generic Bill of Sale is a document outlining the details of a transaction that a seller and a buyer have entered and acts as a record of information on the deal.
Types of Bills of Sale in Arkansas
Do I Need a Bill of Sale in Arkansas?
The document is an important part of any transaction that shows the transfer of a certain item from one person, or entity, to another. It verifies the purchase and proves you legally own the property. Also, it releases the seller from any liability and protects both parties to the contract from any possible future disputes, so fill out the bill of sale properly at the time of the sale.
Arkansas Bill of Sale Requirements
If you wish to create your own bill of sale for the state of Arkansas, you can browse our library of generic bill of sale templates below. The form needs to contain:
Seller's and buyer's personal information – the full name, address, and identification (usually the driver's license number is enough);
Property description – provide details on the property that is being sold and bought, its serial number, model, size, color, design, possible faults, and distinctive characteristics;
Date of the transaction;
Amount paid and the method of payment;
Signatures of both parties, or their legal representatives.