Customer Information Sheet Template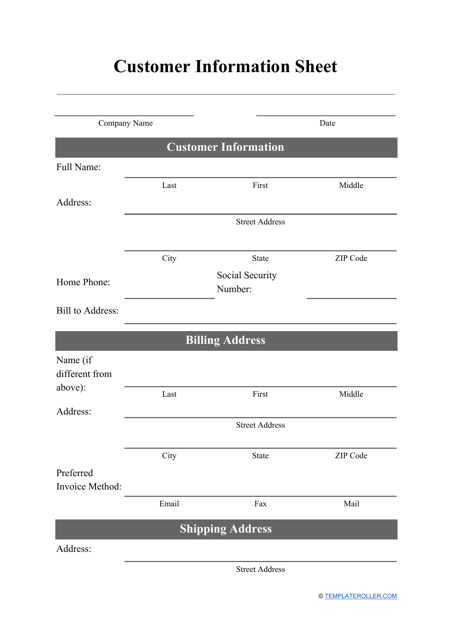 Fill PDF Online
Fill out online for free
without registration or credit card
What Is a Customer Information Sheet?
A Customer Information Sheet is a document that businesses use to collect information about their customers. The purpose of the sheet is to provide companies with valid information about their clients when they need it.
Alternate Name:
Client Information Sheet.
Customer Information Sheets are used by the vast majority of businesses that provide services or produce and distribute goods. They are usually kept by the business and gathered in a client base for their convenience. The document should not only be used as a source of contact information of customers, a business should structure it in a way so that it will help them gather any tiny bits of important customer information, such as their favorite sports team, music band, or writer. It will help form a better connection with their clients and will help have a bigger impact on any future business developments.
A printable Customer Information Sheet template can be downloaded through the link below.
How to Make a Customer Information Sheet?
A new Customer Information Sheet entry should be made every time a new client appears. The sheet should not be too large, however, it should collect a large amount of information about their clients. Generally, the document should not take more than one page. The Customer Information Sheet format will vary depending on the needs of each specific business, but will usually include the following:
Introduction. Start with a title and information about the business. That way, when a client is filling in the sheet, they will know who will use it afterward. Some companies put their logo on the document, as well as the name of the company, and its location for the convenience of their clients.
Personal Information. Have the client write down their full name, date of birth, age, and other information that a business may find important.
Customer's Address. Have the client state their current address, which includes their street address, city, state, and ZIP code.
Contact Information. In this part, the client should enter their contact information so that the business would be able to reach them. It should include their telephone number, fax, email, etc.
General Information. Companies can use this section of the sheet to ask their customers for general information. For example, how often a client uses a company's services, what is the preferable way or time to contact them, etc.
Signature and Date. The client should sign and date the form to express their will to share their personal information.
Conclusion. Provide the name of your business's representative along with their telephone number and address.
The exact content of your Customer Information Sheet depends on the nature of your business, the types of goods and services it provides and can be changed to meet the needs of the company.
---
Related Forms and Templates:
Download Customer Information Sheet Template