Sample Cover Letter for Online Job Application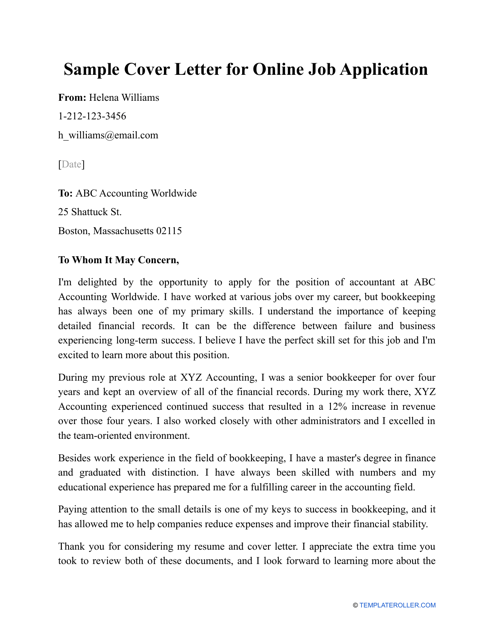 An Online Job Application Cover Letter is a document that can be used when individuals would like to respond to an online job application. The purpose of the document is to provide the potential employer with information about the individual and convince them to schedule an interview.
Alternate Name:
Online Job Application Cover Letter.
This letter is supposed to be used when an individual is required to send a cover letter along with their resume (and other appropriate documents) via email. A Sample Cover Letter for an Online Job Application is available for download below.
Individuals can use this letter to introduce themselves to the prospective employer and present them with additional information that they did not include in other documents. For example, they can list achievements they have accomplished in their previous places of work (increased sales, improved customer loyalty, etc.).
How to Write a Cover Letter for a Job Application Online?
Writing a Cover Letter for an Online Job Application is a straightforward process, the document can contain several parts. These parts can include:
Information About the Parties. In the first part of the document, the applying individual is required to provide information about the sender (themselves) and the addressee (the potential employer). Since it is an Online Job Application Cover Letter, the individual should designate only the names and emails of both parties.
Introduction. Individuals can use this section of the letter to introduce themselves and explain why they want to apply for this particular position.
Details About the Applying Individual. Here, the individual can describe why they will be a good fit for this position. They can expand on the set of skills they have obtained during their work experience, describe the situations in which they went beyond their responsibilities and helped their company to succeed, or provide other examples of their abilities and accomplishments.
Conclusion. The individual can sum up the contents of the letter and provide their contact details in case the prospective employer would like to get in touch.
Signature. At the end of the email, the individual can put their full name instead of the signature.
---
Still looking for a particular template? Take a look at the related templates and samples below:
Download Sample Cover Letter for Online Job Application