Lease Option Agreement Template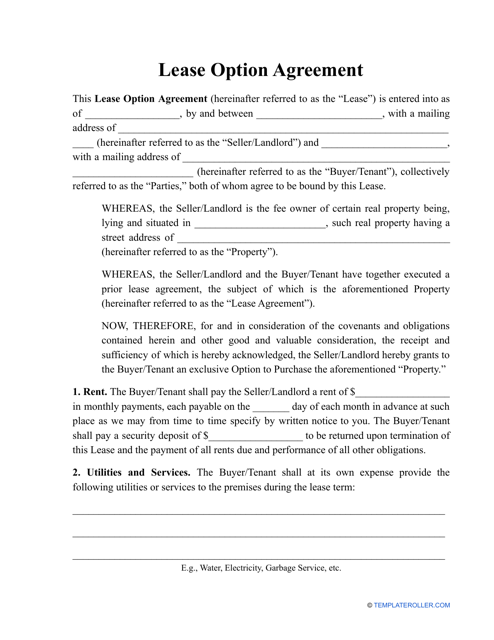 Fill PDF Online
Fill out online for free
without registration or credit card
What Is a Lease Option Agreement?
A Lease Option Agreement is a legal contract prepared by the owner of real estate and the tenant that gives the latter party an opportunity to buy the property after the term of the lease is over. You can download a printable Lease Option Agreement template through the link below.
Alternate Name:
Lease Agreement with the Option to Purchase Real Estate.
This document is for you if you cannot pay the whole price of the house or office space at once or you prefer to live or work there for some time before making a significant purchase. Moreover, the person or company may have credit problems which means they cannot qualify for a traditional mortgage or loan at the moment. A contract of this kind is also beneficial to the landlord - they can receive regular rent without losing income and then sell the place to their tenant interested in long-term occupancy.
How to Write Up a Lease Option Agreement?
Follow these steps to compose an Option to Lease Agreement:
Properly title the document - it is recommended to name it "Lease Agreement with Option to Purchase Real Estate" to indicate the purpose of the contract. The tenant is not obliged to buy the property once the lease is up but they may exercise this right.
Identify the parties to the contract - the landlord and the tenant. Since this document involves an option to buy, you may add right away that you will refer to the parties as landlord/seller and tenant/purchaser.
Write down the legal address of the real estate in question. List the furniture and appliances that come with the property - the tenant must check them to confirm their condition before signing the papers.
Indicate the lease terms. The tenant may use the estate for residential or commercial purposes while making regular payments to the landlord. Usually, the payments are due on the first day of each month. The term of the lease is up to the parties, but it typically does not exceed two or three years. Determine the rules for both parties - the tenant must take care of the estate and handle maintenance and routine repairs while the landlord deals with major repairs and does not interfere with the tenant's quiet enjoyment.
Discuss and put in writing the option to buy the property. For instance, the tenant may purchase the apartment in three years after signing the document if they keep making lease payments and also pay a set price of the estate. You may add the price during the initial negotiations or agree that the price will be determined later in accordance with the future state of the housing market. Basically, the tenant has the right of first refusal - they do not have to buy the estate when the lease is over, but if they choose to do it, the landlord must agree.
Confirm you understand all the provisions of the agreement, sign and date the document.
---
Not what you were looking for? Check out these related templates:
Download Lease Option Agreement Template