Photography Business Plan Template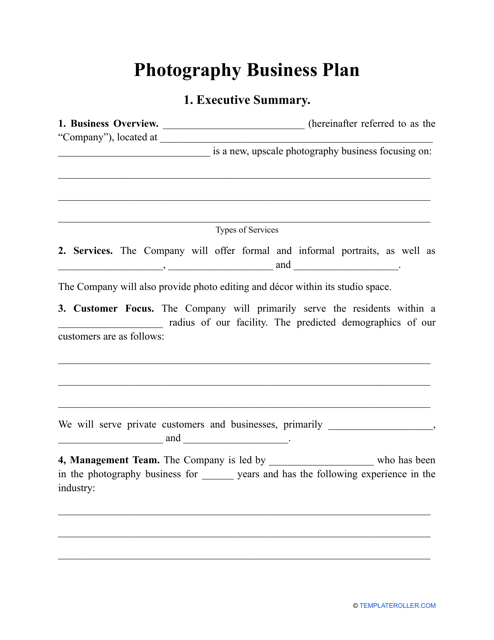 Fill PDF Online
Fill out online for free
without registration or credit card
What Is a Photography Business Plan?
A Photography Business Plan is a business plan that was specifically developed for a photography business. The purpose of this document is to present information about a photography operation, what will be its target market, financial background, goals, strategies, and other details.
Individuals can use a Business Plan for Photography when they would like to create a photography enterprise and want to find funding for it. Therefore, they prepare a document that will show how profitable it will be in order to apply for a loan at a bank or to convince the investors.
Photography business plans can be adapted for different types of photography. For example, a drone photography business plan is suitable for those individuals who would like to start a drone photography business and want to research the market specifically for this service. If you are looking for a business plan for your enterprise you can check out a Photography Business Plan template which can be downloaded below.
How to Write a Business Plan for Photography?
Writing a Business Plan for Photography can be complicated yet fulfilling. Completing it will help you understand which steps you need to take in order to succeed in this business. There are no strict rules that would apply to compiling a business plan, nevertheless, make sure you did not miss on including any of the important information about your enterprise. Your plan can include sections similar to the ones described below:
Information About the Operation. At the beginning of your business plan, you can designate the name of your future photography operation, whether it will be specialized on one (or several) types of photography or not, its mission, and more.
Goals and Strategies. Here, you can state which goals you plan to achieve with your enterprise and how you are going to do it. If you want to show how your company will be developing you can include a timeline with milestones that your business can reach during a specific period of time. You can also describe marketing and distributional strategies you would like to apply for the development.
Market Analysis. This section shows whether your company will be in demand and what it takes on the market. It can be divided into several parts, which can be:

Industry Outlook. Here you can research the industry, what are its main tendencies, where it is headed, and similar aspects.
Competitive Analysis. In this part, you can list your main competitors, and provide details about their main benefits and drawbacks.
Target Market. This section is supposed to contain information about who will be your target customers, how many of them are on the market, and which services you are able to offer them.
---
Haven't found the template you're looking for? Take a look at the related templates below:
Download Photography Business Plan Template