Photography Contract Template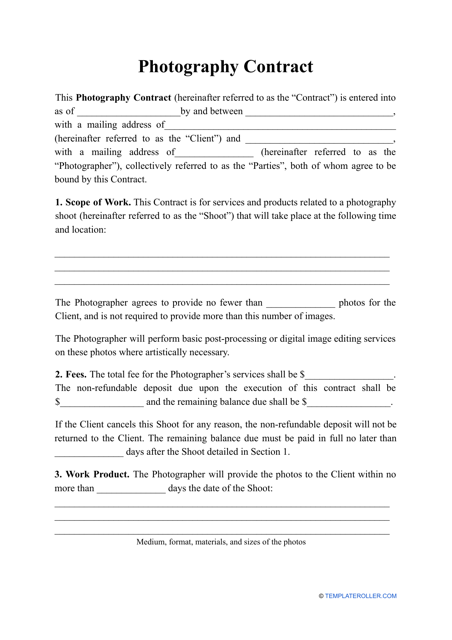 Fill PDF Online
Fill out online for free
without registration or credit card
What Is a Photography Contract?
A Photography Contract is a contract between a photographer and a client. The terms of the contact include details relating to payment, indemnification, responsibilities of the client, and the photographer, the amount and quality of the photos. This contract ensures that the interests of the parties are secured legally.
You can create your own contract using our online form builder or download our free Photography Contract Template through the link below. You can also use our templates of different types of Photography Contracts, including:
How to Make a Photography Contract?
Usually, a general Photography Contract consists of the following parts:
Scope of Work. This part contains information about the location, time of the photoshoot, number of working hours, the total number of photos that the photographer must send to the client, and the number of photos that have to be processed.
Payment Terms. The total fee for the Photographer's services should be indicated. It consists of the non-refundable deposit due and the remaining balance due. The non-refundable deposit due is the sum of money that the photographer receives in any case, even if the client refuses to take a photo session. Regarding the remaining balance due, the photographer receives after providing the photos to the client and if they suit them.
Work Product. This part contains information about the format, materials, and size of the photos.
Indemnification. The form should state all of the photographer's compensation for any harm or loss.
Duties of Client. This section states what the client is responsible for. For example, they should obtain all permissions necessary to take photos in certain areas such as churches, government buildings, etc.
Model Release. The client gives their permission or prohibits the photographer from using the photos for commercial purposes or advertising.
---
Related Templates and Topics:
Download Photography Contract Template