Copyright Release Form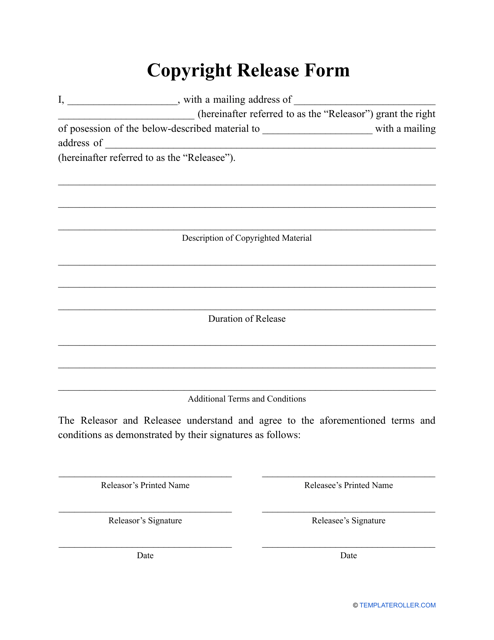 Fill PDF Online
Fill out online for free
without registration or credit card
A Copyright Release Form is a legal document in which the owner of the copyright grants permission to another party to utilize it. This is what happens when someone gets compensated to create a work over which they would otherwise have copyright. To avoid the need for separate releases for each work created, use this sort of Release Form to immediately transfer copyright to the person who paid for it. A Photo Copyright Release Form, for example, could make explicit reference to a photograph.
Alternate Names:
Photographer Copyright Release Form;
Photo Copyright Release Form;
Release of Copyright Form.
You own the copyright to anything you create artistically. An artist can use a Release of Copyright Form to waive or ensure that other people affiliated with the work sign away any potential copyrights. Models and anyone who participates in a photoshoot and signs a Photography Copyright Release Form may be unaware that they are signing over their copyright rights to the photographer. These types of forms are optional, but if used, they can make future legal processes much easier.
A Copyright Release Form template can be downloaded below.
How to Write a Copyright Release Form?
Print the documentation on company letterhead paper, as authorizing a copyright release through email or handwritten paper does not appear authentic or professional. Make sure to include the photographer's name, logo, and address on the paper. Continuity reduces the likelihood of the document being fabricated.
Establish who or what company is in charge of acquiring the copyright. A name, signature, and the name of the photography studio are required. In your contact information, don't forget to include the names and URLs of your social network profiles.
Describe and name the photograph(s) that will be published. Provide a brief description of the photograph in addition to the digital file name or filmstrip identification number. Even if the file name is changed or the negative is reduced, the visual description will ensure the published image is identified.
Define the release's application. Include a statement stating how the person intends to use the photo, such as printing extra copies, submitting the photo to the media for publication in publications or on websites, or using the photo in any other way they see fit. Declare by name and address who have the right to use the photograph, when and how it can be used.
In closing, specify whether the photographer should be given credit. Even if it is published, the artist who created it may like to be credited each time the image is revealed or replicated.
A word of caution: If you intend to handle the document regularly, follow the advice of an attorney. Allow a notary public to verify the photographer's identity and place the notary seal on the paper for one-time photo releases.
---
Still looking for a particular template? Take a look a the related templates below:
Download Copyright Release Form