Authorization to Release Employee Information Form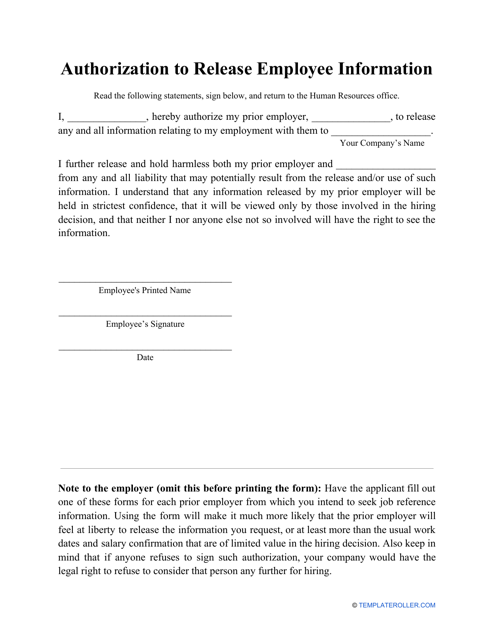 What Is an Authorization to Release Employee Information?
An Authorization to Release Employee Information Form is a document that should be completed by an employee to allow their former employer to release their employment information to prospective employers.
Alternate Name:
Employee Information Release Form.
The job reference information, released in this document, usually includes details about the education of the worker, their job responsibilities, the period of work in a company, position held, their abilities and skills, required to perform this job. An Employee Information Release Form should be prepared by an employer and provided for completion to employees who have left or are considering leaving their employment in an organization. Information contained in this document allows prospective employers to analyze the applicant's employment history and work performance and evaluate their suitability for employment.
An Authorization to Release Employee Information template can be downloaded through the link below.
How to Write an Authorization to Release Employee Information?
An Authorization to Release Employee Information Form usually includes the following:
The employee should enter their full name and the legal name of their former employer.
The employee must authorize their former employer to release their job reference details to prospective employers. The employer gives the employee the right to choose if they wish to release general or limited information about their employment. Usually, it is required to authorize the release of the following general information: dates of employment, the position held, job responsibilities, quantity, and quality of the performance. Some employers can include there information about an employee's attendance, working relationships with supervisors and other workers, the reason for leaving, their abilities, and technical skills.
The employee may also forbid the authorization of their employment information. In this case, indicate that the employer has a right to release only limited information: the position held by the employee and the dates of their employment in this organization.
The employer can include in the form a statement that they reserve the right to provide information to prospective employers regarding whether any former employee has features or propensities that could make their employment in the particular position dangerous for other workers or present a security risk.
The employee has to certify that this Consent to Release Employee Information can be revoked by them at any time in writing, but will not be legitimate for the information that has already been released under it.
The employer must specify the period for which this authorization remains in effect. For example, it can be ninety (90) calendar days from the date of signature. The employer must indicate the department where the signed form should be submitted and retained.
The employee should print their name and enter their Employee identification number or Social Security Number, phone number, and email.
Enter the date of completion and sign the form.
---
Related Tags and Templates:
Download Authorization to Release Employee Information Form