What Is a Job Application?
A Job Application is a standardized form completed by individuals who want to apply for a position within a company. As one of the crucial steps in the recruitment process (see our Recruitment Process Flowchart for more information), it allows the future employer to find out basic information about the job candidate and verify the accuracy of the details the applicant shared in the document, such as academic attainments and previous employment.
An effective application will describe your skills and experience to make you an appealing candidate for a job. It can also highlight your personal characteristics if you put a focus on your ambitions and plans and show how they fall in line with the goals of the company so that your chances to get a call for a personal interview are maximized.
If you are searching for a Job Application, you can download our printable template and tailor it according to your specific needs.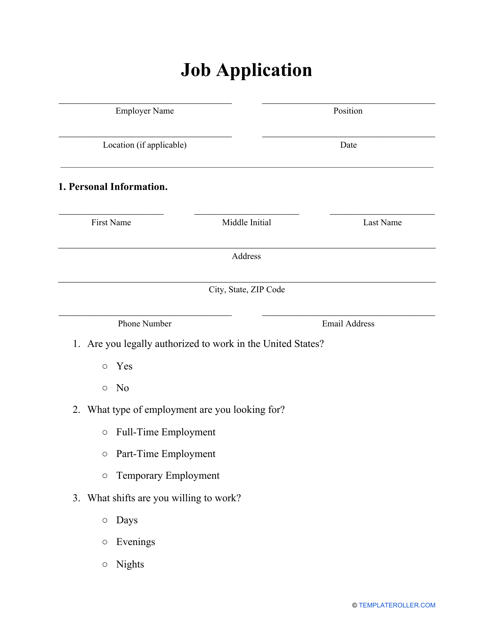 PDF
This document is used to describe the skills and experience of a potential employee in order to make them an appealing candidate for a job.
How to Fill Out a Job Application?
Here is how you properly complete a Job Application:
Indicate your personal information – full name, mailing address, phone number, and email address.
Describe your education - list schools, colleges, universities, and training programs you have attended. Specify the degrees, certificates, and diplomas you have received and write down the dates of graduation.
Provide your employment history - names and contact details of your former employers and names of your direct supervisors. Name your previous job titles, dates of employment, and reasons for leaving. You can also add your salary details.
Include references - names and contact information of people who can attest to your qualifications. You can also submit a Letter of Recommendation along with an application.
Name the position you are interested in and briefly describe why you are suitable for this job.
Sign the application and invite the recipient to contact you once the application is reviewed.
Visit the company website or call them to find out whether there are specific instructions for a Job Application template. Often, paper applications are not accepted, and you have to fill out an application online. You might need to prepare a separate Resume Template – a unique document that lists your academic and professional achievements. Additionally, you may be asked to sign an Authorization to Release Employee Information – you disclose confidential details about your work experience which requires your consent to the release of employment-related information – dates of employment, description of job duties, etc.
How to Write a Cover Letter for a Job Application?
A Job Application Cover Letter is a short statement that introduces your Job Application and lists your contact details for the recipient. Follow these steps to compose a Cover Letter:
State your name and contact details. There is no need to record your physical or mailing addresses, but you must indicate your telephone number and email. If you prefer to connect via phone, you can also remark that you take calls during a certain time of day.
Enter the name of the recipient and their title within the company. If you do not know to whom you must mail the documentation, contact the company to find out this information.
Refer to the position you are applying for. Explain under which circumstances you have discovered an open vacancy.
Ask the letter recipient to contact you as soon as they can in order to set the time for a personal interview. Thank the manager for their time and sign the letter.
How to Follow Up on a Job Application?
Follow up on a Job Application within a few days after you submit your documents. It will help to boost up your chances to get a quick response from a potential employer. It is possible to call the human resources department of the company or the individual to whom you have sent your Job Application. However, the best way to follow up is to send an email – especially, if you do not know the best time to call the hiring manager.
You can compose a Job Application follow up email and send it directly to the hiring manager. Add a title – for instance, "follow up on a job application + title of the position". Confirm that you are still interested in the job and remind the recipient why you would be the best choice for this position. Keep the letter concise and polite, avoid negativity, do not ask for an immediate answer, but offer to keep in contact.
How Long Does it Take to Hear Back From a Job Application?
The hiring process usually takes one or two weeks. However, certain companies can look for certain employees quickly – depends on what is happening with the business and how urgent an open vacancy is. In any case, it is risky to wait for just one employer after you send one application. While you are waiting for a response from a particular business, do not stop searching for a job – keep applying for other positions to increase the number of options for employment.
---
Related Topics and Tags: