Photography Invoice Template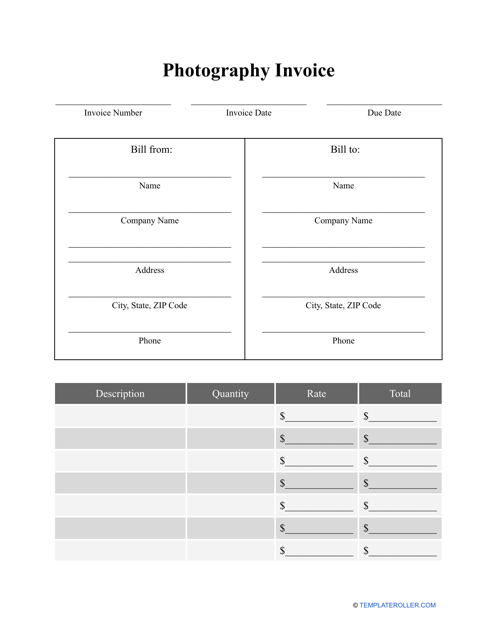 Fill PDF Online
Fill out online for free
without registration or credit card
A Photography Invoice is a formal statement prepared to communicate to customers the amount of money due for the services of a photographer.
Alternate Names:
Photographer Invoice;
Photography Billing Invoice.
Whether you represent an established photography business or you have recently started working as a freelance photographer, you should pay attention to the documentation you draft for yourself and your customers. A properly filled out invoice will remind the client about the price and rate of the photography services you are providing and help you monitor your expenses and transactions. Even if you were asked by a close friend or relative to organize a photoshoot or help them create a picture book capturing the memorable event, a blank Photography Invoice should be completed and sent to the individual who is responsible for the payment.
A Photography Invoice template can be downloaded below.
How to Write a Photography Invoice?
Follow these guidelines to create an Invoice for Photography Services:
Consider purchasing accounting software that will let you compose and send online invoices to your clients. It will allow you to save money and time, streamline the invoice processing, keep track of all the payments for your own analysis and for an external audit.
Indicate the details of your business - the name of the company or your full name and the contact details. To promote brand recognition, you may insert a logo of your business and use bright colors your long-term and new clients associate with you and your work.
Include the breakdown of the services you have rendered - it is advised to draw a table. For instance, if you worked at the wedding event, you may list the photography coverage on the day of the event, a photo session of the bride and the groom separately before the formal wedding ceremony, a certain number of digital pictures and their physical copies, a wedding album or a data storage device that contains all the photographs of the event, and a video that includes the key elements of the wedding party. Alternatively, you may refer to the package or price list you and the customer have agreed upon but only if you have an official record in the form of a contract.
Specify the cost of every service you have provided and calculate the total cost of your work.
Offer several payment options to the customer - they may choose the most convenient payment method. Record the payment deadline and mention the fines and penalties that will be imposed if the person or organization in question fails to send you payment on time.
Make sure you send a Photographer Invoice within a few days after the event or photoshoot took place. Even a week-long delay may lead to the client's reluctance to pay giving them a wrong impression of you not caring whether you are paid on time or not, and you need to avoid that. Sending an invoice within 3 business days is standard practice.
---
Still looking for a particular template? Take a look at the related templates below:
Download Photography Invoice Template