Business Proposal Cover Letter Template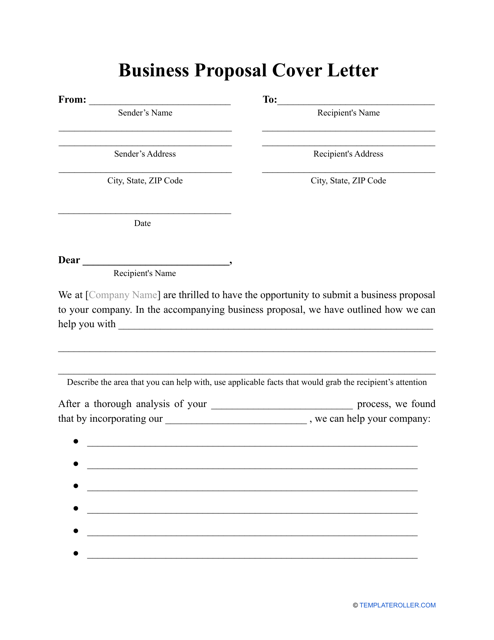 A Business Proposal Cover Letter is a document that can be used when an individual would like to submit their business proposal to a prospective investor or possible business partner. The purpose of this letter is to introduce your business ideas in a short form to the receiver of the letter.
Generally, a Cover Letter for a Business Proposal is the first thing that a possible investor will learn about your proposal, therefore, it should be prepared thoroughly and with great precision. In fact, if the Letter of Introduction will not show the information the potential investor would like to see there, they just might not feel interested enough to learn more about your ideas.
A Business Proposal Cover Letter sample can be downloaded below.
How to Write a Business Proposal Cover Letter?
Writing a Business Proposal Cover Letter can be a challenge. However, if the document you have prepared will be engaging, a prospective investor will get curious and take the time to examine your business proposal.
If you struggle with the decision about what kind of details to present in your cover letter, you can consider adding the following sections to it:
Information About the Addressee. Start your document by designating the identifying information (name and address) of the receiver of the letter.
Information About the Sender. After designating the person who is supposed to receive your letter you can state your full name and postal address.
The Date. The date when the document was completed will verify that its content is current and up to date.
Introduction. You can use this part to tell about yourself to your addressee and state the reason for writing them. You can also explain why you have chosen the addressee as a possible investor for your business proposal (whether you share common goals, or you are interested in similar projects, etc). If you have met the potential investor before, you can make a reference to that meeting as well.
Business Proposal Details. Here, you can present a prospective investor with the main ideas (or short summary) of your business proposal. It is up to you which aspects to mention and which to leave out, however, keep in mind that investors get a lot of offers and choose only one of them. After you have finished compiling it, make certain your proposal cover letter stands out, ensure it is easy to read and has no errors or mistypes.
Conclusion. The last part can be constructed in the following way. You can start by thanking your addressee for their time. After that, you can say you are looking forward to hearing from them soon. And lastly, you can offer to answer any questions the addressee might have. A good and respectful closing can help you make a good impression on your prospective investor, therefore, it might increase your chances to be noticed.
---
Still looking for a particular template? Take a look at the related templates and samples below:
Download Business Proposal Cover Letter Template