Investment Letter Template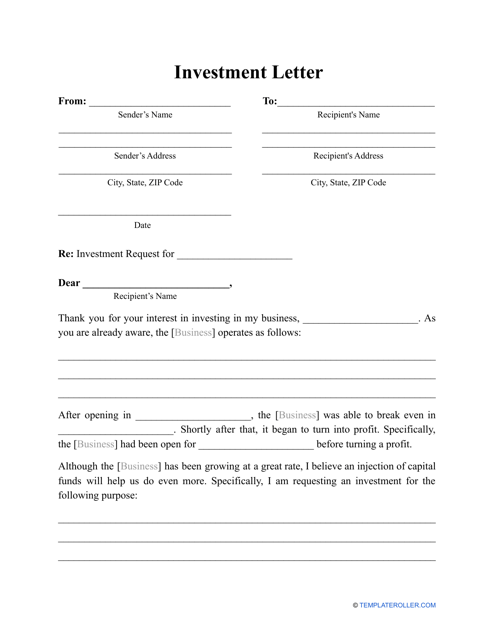 What Is an Investment Letter?
An Investment Letter is a document used by businesses to hunt for investment by getting in touch with a possible investor. It isn't considered a very formal document as there are usually some communications between parties after sending the Investment Letter. In some cases, an investor may already be aware of your business and could potentially already be interested in making an investment. Then, the Investment Letter acts as a follow-up document that provides a potential investor with more information.
Alternate Names:
Investment Proposal Letter;
Investment Letter of intent;
Business Investment Letter of intent.
An Investment Letter template can be downloaded by clicking the link below. Generally, such letters are intended to trigger the beginning of a dialogue which will hopefully lead into the negotiation phase. In order to be taken seriously by an investor, it is crucial that you have a perfect and detailed letter that will answer any questions relating to your business. An investor will not be willing to part ways with their cash if the letter doesn't contain all the correct and necessary information.
How to Write an Investment Proposal Letter?
An Investment Proposal Letter is an informal document. The best Investment Letters will attract potential investors. Such documents are shortened down business plans which outline information about your business and how you would best delegate investment funds. The following information needs to be included in the letter:
Name proposal. Your proposal needs a catchy name to interest a potential investor. It should summarize the business idea as a whole.
Business summary. A strategic plan for financial backers begins with a cover page with a chapter by chapter guide. The structure of the document should begin with a short summary. In this outline, you ought to explain the incentive which reflects information about the target audience, areas of concern, a plan on resolving these concerns, and the advantages your answer offers to a potential client and the financial backer. Here you should also outline the return of investment you would expect if you were to acquire financial backing.
Details about the project. This should outline your vision and how you plan on realizing it supported by facts and previous positive experiences.
Performance data. Describe your business in short and include relevant financial information.
Sales and marketing. In this section, show research you have carried out in regards to the market and potential competitors. You can also show what strategy you plan on implementing to boost sales.
Company logistics. Here you need to show potential backers the potential that your team has. You can mention the quantity of staff, relevant operational costs, and equipment required to boost your project.
Financing. This is the most crucial part of the letter. You need to impress potential investors with facts, numbers and demonstrate a high level of detail. It should detail the investment, deadlines, return of investment, profit forecasts along with an exit plan in cases where a company has met or has not met the investment plan.
---
Not what you need? Check out these related topics:
Download Investment Letter Template