Grant Proposal Cover Letter Template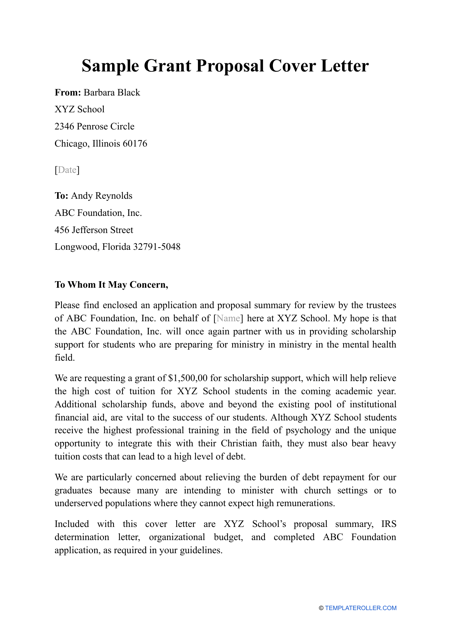 Fill PDF Online
Fill out online for free
without registration or credit card
What Is a Grant Proposal Cover Letter?
A Grant Proposal Cover Letter is a document that individuals can use when they would like to apply for funding for their project. The purpose of the document is to introduce your project to a funder and convince them to give you a grant. Generally, these types of letters are supposed to be used after you have conducted research and found a donor who might be interested in contributing to your project.
A printable Grant Proposal Cover Letter sample can be downloaded through the link below. The contents of the Cover Letter are different from the contents of the Grant Proposal itself. Your Cover Letter is supposed to get the funder interested in learning more about your proposal and funding it.
How to Write a Cover Letter for Your Grant Proposal?
Writing a Cover Letter for a Grant Proposal is an easy-going process, nevertheless, it requires some preparation. Look through your grant proposal and decide what kind of information you would like to show in the Cover Letter. Commonly, this type of Cover Letter can be constructed the following way:
Information About the Addressee. You can begin your Cover Letter for a Grant Proposal by stating the name and the address of the individual or entity who is supposed to receive the letter.
Information About the Sender. Here, you can state your name and your address for identification purposes.
Introduction. In this part of the document, you can greet the funder by using their personal title and last name. if you don't have this information you can contact the funder or check their official website for information. After you have greeted them, you can introduce yourself (and your organization) and share your mission with them. Then you can designate the reason for writing by stating that you request funding for your project.
Grant Proposal Details. To convince a potential funder to contribute to your project you can show them how it is connected with their mission. Keep it brief since the extended description will be presented in the grant proposal itself, however, do not forget to mention several important details that include:

Funding. You should indicate the amount of funding your project requires;
Contents of the Project. Your Cover Letter will be attached to your project's document (plan, budget, etc.), therefore, you should include a table of content in your Cover Letter;
Goal and Meaning. Here, you can explain why you have chosen this project to work with and how it will help the funder to further their mission.

Conclusion. At the end of your Cover Letter, you can designate you will be happy to provide any additional information the funder would like to see. You can also thank them for their time and sign the letter with your name.
Attachments. Do not forget to list all of the documents that you attach to the Cover Letter. Some senders just put the word "Attachments" at the end of their letter to indicate that there are attachments sent in the same package.
---
Not what you need? Check out these related topics:
Download Grant Proposal Cover Letter Template