Boat Bill of Sale Form - Alabama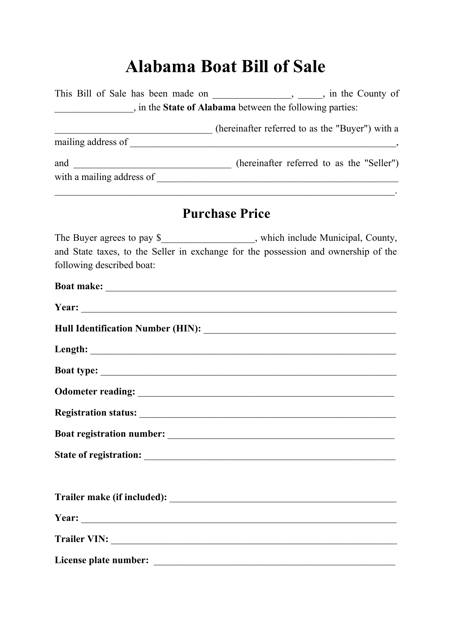 Fill PDF Online
Fill out online for free
without registration or credit card
What Is an Alabama Boat Bill of Sale?
An Alabama Boat Bill of Sale is a legal document that proves the change in ownership of a vessel in Alabama. The seller will provide this document to the buyer at the time of purchase. The state requires the document to be completed and signed for the purpose of boat registration.
Alternate Names:
Watercraft Bill of Sale;
Vessel Bill of Sale.
The state of Alabama does not have a government-issued bill of sale form. However, some counties have official government-released forms for this purpose, such as Calhoun, Coffee, Limestone, Mobile, Morgan, and Shelby. Alternatively, you can create your own boat bill of sale with our customizable online template or download a ready-made one below.
Does a Boat Bill of Sale Need to Be Notarized in Alabama?
The form must be notarized, although two witnesses may be accepted in lieu of a notary. The purpose of this requirement is to have proof of the authenticity of the document and to render it valid.
Alabama Boat Bill of Sale Requirements
A boat bill of sale in Alabama includes all the information needed for a proper registration of the boat. An invoice will not replace a bill of sale for this purpose, and both the seller and the buyer should retain a copy of the completed form for their records. While new boats must be registered within 3 days of the date of purchase, used boats that are currently registered with Alabama must be registered within 15 days from the date of the transfer of ownership. The buyer of a boat is required to apply for registration with the County Licensing Official of their home county, and they are not authorized to use the boat if there is no registration on it or if the registration has expired.
Check the following list to ensure you include all the information required for the transaction:
Transaction details. Write a valid date, time, and location of the transaction.
Information about the seller. State their full name, driver's license number, and their physical address, including the city, state and zip code.
Information about the buyer. State their full name, driver's license number, and their physical address, including the city, state and zip code.
Details of the boat. Complete the vessel's make, year, length, hull ID number, registration number, odometer reading, title number, number of outboard motors, and horsepower. Also, indicate if a trailer is included in the transfer.
Signatures. The seller and the buyer must sign the form, as well as two witnesses or a notary public.
---
Didn't find the form you were searching for? Check out these related templates:
Download Boat Bill of Sale Form - Alabama