Moped Bill of Sale Template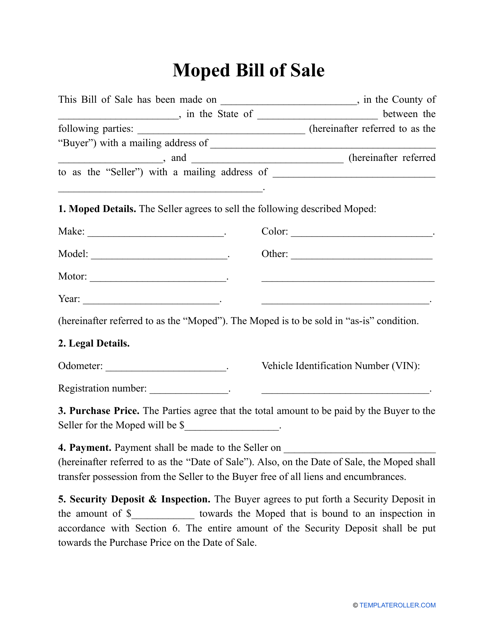 Fill PDF Online
Fill out online for free
without registration or credit card
What Is a Moped Bill of Sale?
A Moped Bill of Sale is formed during the sale of a moped from one individual to another. It involves transferring an agreed sum of cash (as agreed by both individuals) from the buyer to the seller. The document will act as confirmation that ownership rights have been transferred to the new owner and is vital in the registration process with the Department of Motor Vehicles.
Alternate Name:
Once the document is signed, any issues or maintenance required in respect to the moped will automatically fall into the hands of the new owner thus offering protection to the individual selling the moped. To avoid any run-ins with a faulty moped, a buyer may often organize a thorough inspection of the moped before purchasing. In these instances, the seller may request a deposit to keep the moped reserved. If the buyer is happy with the inspection, a date can be agreed on which the transaction will take place.
A Moped Bill of Sale template can be downloaded by clicking the link below.
How to Write a Bill of Sale for a Moped?
Before sitting down to draft up and sign the Bill of Sale for a Moped, the two parties involved must make a verbal agreement and outline all the conditions that will be included in the bill. Once an agreement has been reached and both parties are comfortable with continuing the transaction, it is time to write the Bill of Sale. To ensure no minor details are missed out, make sure that the following information is present in the document:
You should start by writing the date of the transaction at the very top of the document;
Confirm and then note down the details of the buyer and seller including their full name and address for correspondence;
Provide details about the moped. This should include but is not limited to the type of motor, the make and model of the moped, the year of issue, the main color of the moped, vehicle registration number along with the identification number. You should also take a note of the odometer reading and write a brief description of the condition of the moped;
State the final price that must be paid and detail any deposits along with their conditions, if required;
Both parties should sign with witnesses to confirm the transaction. We would also recommend a notary public to be present during this process to prevent any potential conflicts at a later date.
---
Still looking for a particular template? Take a look at the related templates below:
Download Moped Bill of Sale Template