Dirt Bike Bill of Sale Template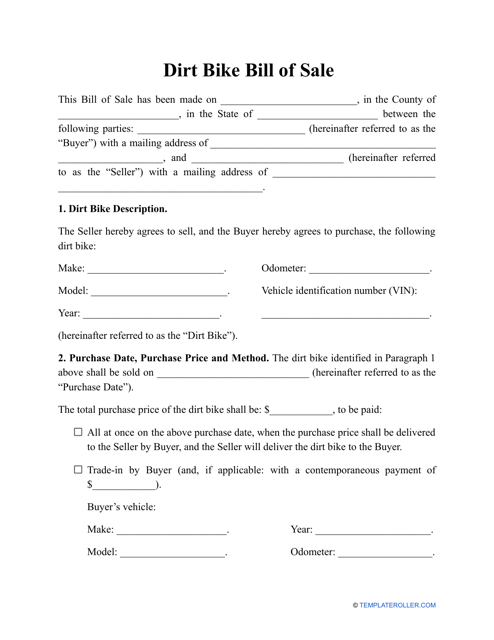 Fill PDF Online
Fill out online for free
without registration or credit card
A Dirt Bike Bill of Sale is a legally enforceable contract between two parties that illustrates the details of the dirt bike sale and purchase. If you do not want to own a motorbike that can be used for riding on unpaved tracks or roads or you represent a retail business that sells new or pre-owned vehicles of this kind, you need to prepare a valid agreement that shows the particulars of the deal in question.
Even if you are selling your dirt bike to a close relative or friend, it is still recommended to draft a bill of sale - the previous owner will no longer be responsible for the vehicle while the new owner can have the legal right to utilize the bike as they see fit.
You can download a Dirt Bike Bill of Sale template via the link below.
How to Write a Bill of Sale for a Dirt Bike?
Here is how you should sell a dirt bike:
Write down the names of the seller and the buyer and identify them by their physical addresses and telephone numbers. Depending on the wishes of the parties, they can also disclose their driver's license numbers which may be necessary if either of them has a common name.
Certify the intention of the seller to transfer the dirt bike to the buyer.
Describe the item you are planning to transfer. At a minimum, you need to state the identification number, make, model, and year of the bike. Let the prospective purchaser check the mileage and record it as well. If the bike has any modifications or customizations, they must be listed in the document - it will help you identify the sold goods in case there are issues in the future.
Enter the purchase price of the motorbike. If the purchaser is allowed to pay in installments and at the moment of signing the papers the seller has not yet received the full payment, it must be reflected in the Bill of Sale for a Dirt Bike. You may include a payment schedule and the payment methods available for the buyer.
Provide a warranty to the buyer - the seller must confirm they are the legal owner of the motorbike and have a right to dispose of it at their own discretion. Besides, the text of the agreement should also include the phrase "as is" - it means the bike is transferred in its current state and the future owner is aware of its existing defects and flaws.
Sign and date the document. If the dirt bike is valuable or the parties do not know each other well, the formal process of selling a dirt bike should be observed by a notary - obtain a notary seal for your document after you confirm your identity to the individual authorized to witness the signing of legal papers. Ensure the seller and the purchaser get a copy of the contract each.
---
Haven't found the template you're looking for? Take a look at the related templates below:
Download Dirt Bike Bill of Sale Template