Livestock Bill of Sale Form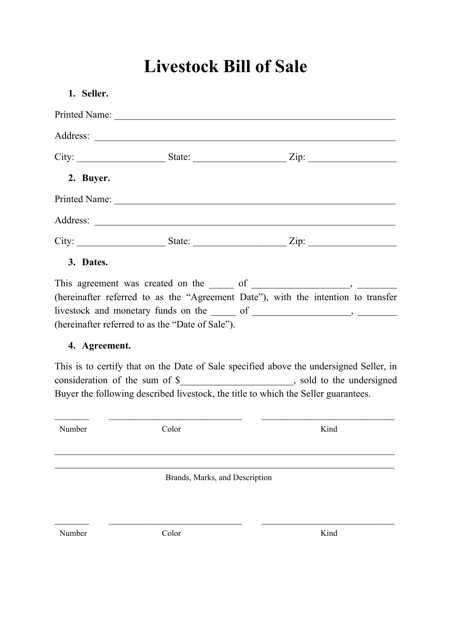 Fill PDF Online
Fill out online for free
without registration or credit card
What Is a Livestock Bill of Sale?
A Livestock Bill of Sale is used when buying and selling animals such as horses, cows, sheep, or pigs. A Bill of Sale for livestock also lays out the details of the sale and when the animals will transfer possession from the seller to the buyer. It is also wise to consider hiring a third-party inspector than can check the health and condition of the livestock at the time of sale.
You can download a printable Livestock Bill of Sale template through the link below or create your own document via our online form builder.
How to Write a Bill of Sale for Livestock?
You will want to include the following information when drafting your Livestock Bill of Sale:
An introductory section with the buyer's and seller's information (names, addresses, and phone numbers) and the date of sale.
The second section of your Bill of Sale for livestock will detail the date of the livestock sale/purchase and the agreed-upon price in U.S. dollars. If the purchase will take place over several installments, you will want to list the deposit made on the date of sale and a breakdown of when additional payments will be made, including any interest added and the final payment date.
The third section will include detailed information about the livestock that will be sold or bought, including:

Coloring or distinctive markers;
Sex;
Weight;
Age;
Health.

Finally, you will include a signature section at the bottom of the agreement, to be signed by the buyer, seller, and any additional inspectors or witnesses.
You can adjust this template to complete a Livestock Lease Agreement (such as are commonly used for organizations such as 4H) or a Horse Lease Agreement.
In this case, you would remove the information pertaining to a sale of the livestock and instead include language that the lessee will be responsible for all housing, feeding, veterinary examinations, and general care of an animal until an agreed-upon date when the animal will be returned to the original owner. The signature section will also include the lessee, and if they are a minor, a signature section for the parent or guardian. Most often such a lease does not include the rental cost.
When writing a Horse Lease Agreement, you will want to include the breed of the horse, when it was foaled, its name, the jockey club registration number (if available), in addition to the other characteristics listed for the third section. The price of the rental should also be included along with legal protection if the animal is not returned when the rental period expires.
---
Haven't found what you were looking for? Take a look at the related templates below:
Download Livestock Bill of Sale Form