Equipment Bill of Sale Template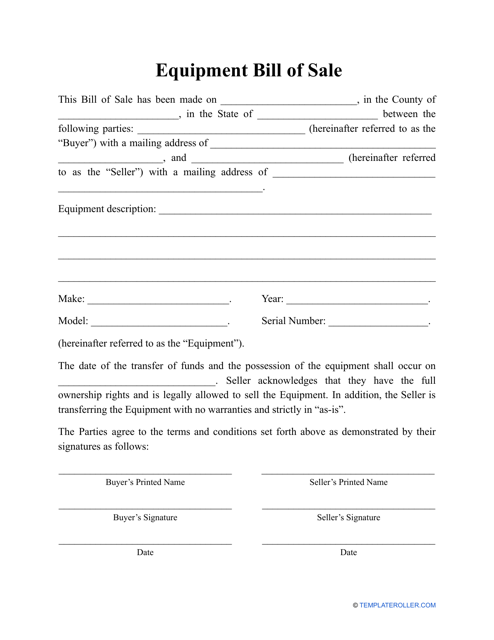 Fill PDF Online
Fill out online for free
without registration or credit card
An Equipment Bill of Sale is a legally binding agreement that establishes the terms and conditions of an equipment transfer from the seller to the buyer.
Whether the purchaser is a private citizen that wants to buy home appliances from another individual, an aspiring entrepreneur that wants to purchase kitchen equipment and make their first steps in the restaurant business, or they wish to invest in heavy machinery to develop their company and generate more revenue, a Bill of Sale for Equipment is necessary: a written contract that demonstrates the property has left the possession of one person or entity and now formally belongs to the buyer will safeguard the rights of the parties and prevent future misunderstandings and legal disputes.
Besides, if there is ever an accident related to the sold items, the former owner cannot be responsible if they are able to present a copy of the agreement that shows they no longer own the equipment.
An Equipment Bill of Sale template can be downloaded below.
How Do You Write a Bill of Sale for Equipment?
Follow these steps to draft a generic Bill of Sale for Equipment:
Identify the parties that have negotiated the deal. While it is possible to simply write down the names and addresses of the people or organizations that transfer the items, you may also add a driver's license number for a private party or an employer identification number for a business.
Outline the subject matter of the contract. List all the equipment and, if necessary, enter a brief description for every item. You should also mention the flaws and defects of the equipment - let the prospective purchaser check everything before you finalize the transaction and agree that you are selling the equipment "as is" - in its current condition.
Indicate the purchase price of the equipment. You may draw a table and indicate the value of every item separately. If the parties have decided the payment will be made in installments, it must be reflected in writing; and do not forget to record the chosen method of payment. Since most bills of sale are composed on the day money exchanged hands, they will serve as supplementary evidence of payment.
Sign and date the document. The signatures will certify your intention to close the deal. If one of the parties or both of them are unable to be present at the signing, it is allowed to issue an authorization for a legal representative who will sign the bill of sale instead. Each party must retain a copy of the contract and keep it safe for their own benefit.
Obtain a notary seal for your bill of sale to protect the interests of the parties. It is recommended for expensive money transfers - for instance, a Heavy Equipment Bill of Sale should be notarized, or for transactions where the parties involved do not know each other well and have no alternative way to verify each other's identity.
---
Haven't found the template you're looking for? Take a look at the related templates below:
Equipment Loan Agreement Template;
Download Equipment Bill of Sale Template