Equipment Lease Agreement Template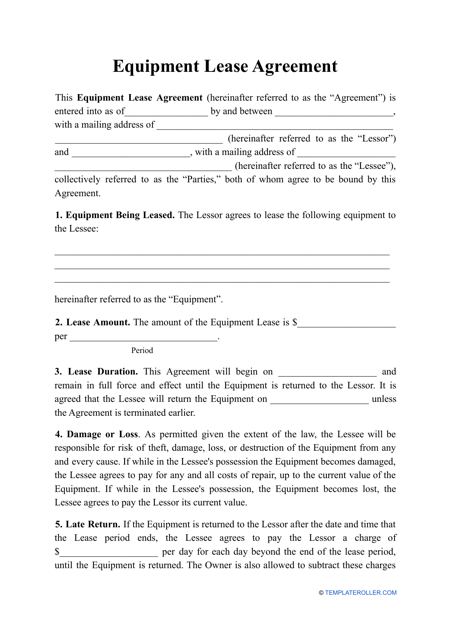 What Is an Equipment Lease Agreement?
An Equipment Lease Agreement is a handwritten or typed legal document signed by the owner of the equipment (lessor) and the user of the equipment (lessee) that lets the latter use the equipment for a certain period of time in exchange for periodic lease payments.
Alternate Name:
Equipment Lease Contract.
Use this document for factory machinery, vehicles, and other tangible property, except for buildings. This contract can be filled out by individuals and entities alike. You may download an Equipment Lease Agreement through the link below or create a more personalized document using our online form builder.
Equipment Lease Types
Equipment leases can be grouped into two main categories:
Capital Lease. Sign this document to lease equipment for a long period of time. In many cases, the lessee has an option to purchase the equipment after the end of the lease period and uses this opportunity.
Operating Lease. This contract allows the lessee to use the equipment for a short time. As a rule, the lessor is responsible for all the risks in the agreement, including general maintenance and repairs.
Equipment Lease Agreement terms and conditions must be negotiated by parties who are free to add whatever provisions they deem necessary. However, at a minimum, it is recommended to indicate the names and contact details of the parties, the lease duration, the amount of rent to be paid and the payment method, the main rights and obligations of the parties, the remedies for potential breach of contract, and the cancellation clause.
Once the papers are signed by the parties, the lessee is entitled to use the equipment while sending the periodic lease payments to the lessor. The lessor retains ownership of the equipment and has every right to terminate the contract if the lessee breaches the agreement.
---
Related Templates and Topics:
Download Equipment Lease Agreement Template