Equipment Rental Agreement Template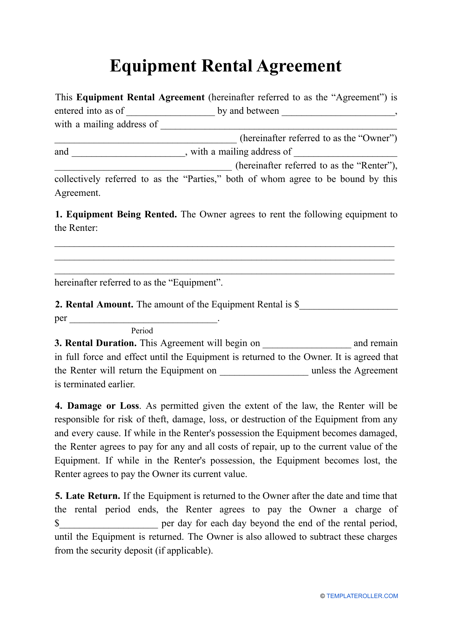 What Is an Equipment Rental Agreement?
An Equipment Rental Agreement is a legal document signed by two parties, individuals or companies, to establish the details of the rental of equipment owned by one party to another. This contract is used when a tangible property is rented out and is irreplaceable as proof in the event of a dispute.
Alternate Name:
Equipment Rental Contract.
If you need an Equipment Rental Agreement template, you may download one below or compose a more personalized document using our online form builder.
What Does an Equipment Rental Agreement Look Like?
First of all, you must clearly outline the equipment that is subject to a lease. The renter promises to rent the equipment described in the document to the rentee who utilizes this equipment for a specific amount of time in exchange for monetary compensation. A simple Equipment Rental Agreement must include the payment terms, the chosen method of payment, security deposit, the duration of the rental period, location of the transaction, expected dates of delivery and returns, fees for late returns, and the insurance information.
Fully establish the equitable relationship between the renter and the rentee - decide who bears responsibility for repairs and maintenance, and think about the potential disputes and disagreements that may occur in the future. You may add the option to renew the agreement - the rentee will be able to renew the contract for a similar term.
Both parties confirm the understanding of the Equipment Rental Agreement terms and conditions. The papers are signed by both parties. It is possible to obtain a notary seal or sign the document in the presence of one or several witnesses.
Difference Between Equipment Rental and Lease
An Equipment Rental Agreement should not be confused with an Equipment Lease Agreement. The lease period for equipment is usually longer to cover the renting of equipment for twelve months and more. Rental Agreements allow the lessor to raise the amount of rent quickly, and it is allowed to renegotiate the terms of the agreement monthly which can be beneficial to lessees who are not interested in long-term rent or are simply not sure of the specific equipment.
Nevertheless, an Equipment Lease Contract has its advantages - the lessor receives a guaranteed income in the form of lease payments, the lessee knows a fixed rental amount, thus, the parties are provided with a sense of stability.
---
Related Templates and Topics:
Download Equipment Rental Agreement Template