Jet Ski Bill of Sale Template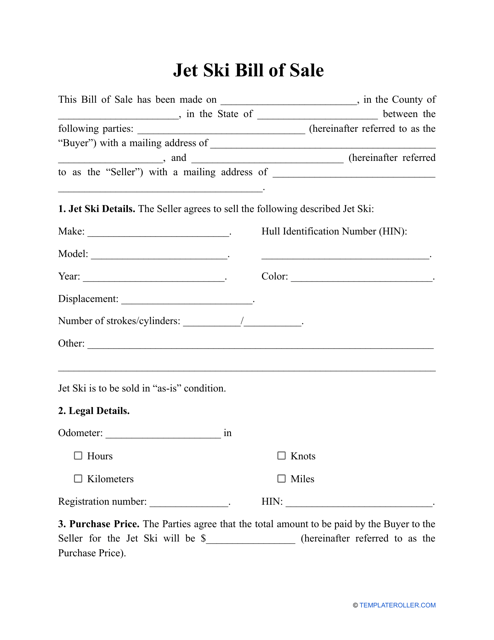 Fill PDF Online
Fill out online for free
without registration or credit card
What Is a Jet Ski Bill of Sale?
A Jet Ski Bill of Sale is an enforceable agreement that confirms the transfer of a jet ski from one party to the other. Although you may think it is enough to pay for this item and let the new owner use it right away without signing any papers, even if you are transferring a jet ski from or to a relative or friend, it is necessary to protect your interests composing a simple Jet Ski Bill of Sale that outlines the circumstances of the sale and purchase. Besides, you should register your new vessel submitting a copy of the bill of sale to the local authorities which will be very helpful if your property is ever stolen.
A Jet Ski Bill of Sale template can be downloaded below.
How Do You Write a Bill of Sale for a Jet Ski?
Follow these steps to prepare a Bill of Sale for a Jet Ski:
Indicate the personal and contact details of the parties - their full names, telephone numbers, and physical addresses. Add driver's license numbers if you or your counterpart has a common last name to avoid misunderstandings in the future.
List the main characteristics of the jet ski - make, model, color, year of manufacture, and hull identification number. In case you are transferring a jet ski with a trailer, describe it as well and record its license plate number.
Mention warranties or guarantees the seller is prepared to provide to the other party. Generally, jet skis are sold "as is" - in their present state, with all the existing defects and flaws the buyer is aware of and does not mind dealing with later. Only include this clause if the purchaser has conducted a thorough inspection of the jet ski and is satisfied with the results.
State the payment price of the item and the payment method the parties have agreed upon. If the payment is made in installments, this has to be reflected in writing to protect the seller.
Date and sign the contract. The signatures will certify you are formalizing the transaction freely and without coercion. If you have an attorney or simply want to delegate the responsibility of closing the deal to someone you trust, your representative can sign the bill of sale instead as long as they have an authorization signed by you. A notary seal is not obligatory but if it is an expensive item or the parties do not know each other well, notarization is never a bad idea - alternatively, find two witnesses who will verify your identity when you sign the papers in their presence.
---
Still looking for a particular template? Take a look at the related templates below:
Download Jet Ski Bill of Sale Template