Furniture Bill of Sale Template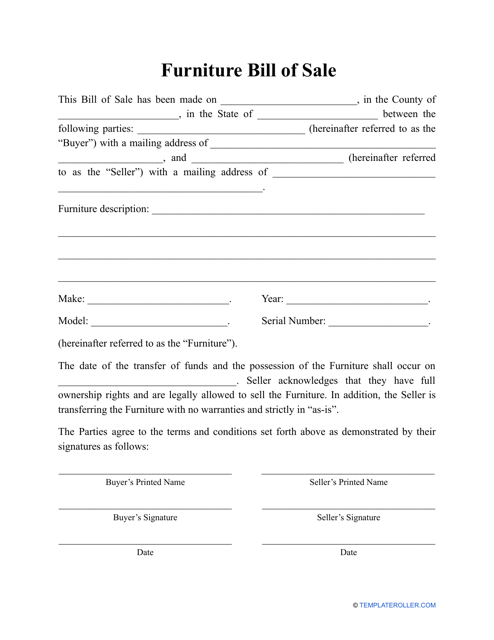 Fill PDF Online
Fill out online for free
without registration or credit card
What Is a Furniture Bill of Sale?
A Furniture Bill of Sale documents the sale and purchase of furniture - irrespective of the type or function of the furniture. It is filled in and given to the old and new owner during the latter stages of the transaction.
The importance of the Bill of Sale for Furniture lies in the fact that it acts as evidence that a transaction took place and explains the specific conditions that were agreed upon by both individuals involved in the transaction. It also acts as confirmation to show who the real owner is and will help avoid any accusations of theft or other wrongdoing associated with the sale. Having this document on hand will prevent any potential disputes, so it is important to ensure that all of the necessary details are included.
A Furniture Bill of Sale template can be downloaded by clicking the link below.
How to Write a Bill of Sale for Furniture?
By ensuring that the document is formed correctly and contains the correct clauses, both parties are guaranteeing themselves protection against any claims of manipulation or wrongdoing. A simple Bill of Sale for Furniture should contain the following information:
Start by including the date of when the sale is taking place;
Provide complete information regarding the individual selling the piece of furniture so that they can easily be identified. This should include their full name and address of residence. Do not shy away from asking for proof of this - you want to be sure you are signing the document with a genuine person;
Provide complete information regarding the individual which will become the new owner of the furniture. Again, this should include their full name and mailing address;
Provide as much detail as possible regarding the furniture in question. Where applicable you should state what the furniture item is, the brand and/or model of the furniture, the color or colors of the furniture, details of the dealer (if one was involved in the transaction process) as well as a serial number if it is known. Note down any other additional information which may make the furniture easily recognizable;
Write a short description of the furniture, particularly the condition in which it is being purchased;
Include the full sum that the buyer should pay before they officially become the new owner;
Both parties should print their names and sign the document. Additionally, you may want to involve witnesses in order to confirm the legitimacy of the transaction.
---
Haven't found the template you're looking for? Take a look at the related templates below:
Download Furniture Bill of Sale Template