DA Form 67-9-1 Officer Evaluation Report Support Form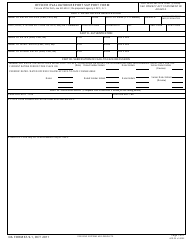 What Is DA Form 67-9-1?
DA Form 67-9-1 or the Officer Evaluation Report Support Form is a document used during the process of officer evaluation along with the DA Form 67-9, Officer Evaluation Report. In particular, this form provides a self-assessment of the rated officer, their evaluation of personal responsibilities, valuable skills, competence, and achievements.
In April 2014 the U.S. Army has changed their officer evaluation reporting system to a new format to analyze and rate officer performances in a manner more in line with Army doctrine, switching over from the DA 67-9 series to the DA 67-10 series. The new series will evaluate officers in different ways based on their rank. The latest printable version of the DA 67-9 form was released by the Department of the Army in October 2011 and is available for download below.
The form - sometimes referred to as the DA Form 67 for short - should not be confused with the DD Form 67, Form Processing Action Request. This form is used to request an addition to the DoD database or to request a revision or cancellation of an existing DD Form.
FOR OFFICIAL USE ONLY (FOUO)
OFFICER EVALUATION REPORT SUPPORT FORM
SEE PRIVACY ACT STATEMENT IN
AR 623-3
For use of this form, see
; the proponent agency is DCS, G-1.
AR 623-3.
PART I - RATED OFFICER IDENTIFICATION
DESIGNATED/PMOS
NAME OF RATED OFFICER (Last, First, MI)
SSN
RANK
DATE OF RANK (YYYYMMDD)
BRANCH
(WO) SPECIALITIES
UNIT, ORG., STATION ZIP CODE OR APO, MAJOR COMMAND
STATUS CODE
FROM DATE
UIC
CMD CODE
PSB CODE
PART II - AUTHENTICATION
NAME OF RATER (Last, First, MI)
SSN
RANK
POSITION
NAME OF INTER. RATER (Last, First, MI)
SSN
RANK
POSITION
NAME OF SENIOR RATER (Last, First, MI)
SSN
RANK
POSITION
PART III - VERIFICATION OF FACE-TO-FACE DISCUSSION
MANDATORY RATER / RATED OFFICER INITIAL FACE-TO-FACE COUNSELING ON DUTIES, RESPONSIBILITIES AND PERFORMANCE OBJECTIVES FOR THE
(Date)
Rated Soldier Initials
Rater Initials
Senior Rater Initials
CURRENT RATING PERIOD TOOK PLACE ON
(Review)
PERIODIC RATER / RATED OFFICER FOLLOW-UP FACE-TO-FACE COUNSELINGS:
Senior Rater Initials
Dates
Rated Soldier Initials
Rater Initials
(Review)
PART IV - RATED OFFICER
(Complete Part IV and Part V below for this rating period)
PRINCIPAL DUTY TITLE
POSITION AOC / BR
a. STATE YOUR SIGNIFICANT DUTIES AND RESPONSIBILITIES:
b. INDICATE YOUR MAJOR PERFORMANCE OBJECTIVES:
Page 1 of 2
DA FORM 67-9-1, OCT 2011
PREVIOUS EDITIONS ARE OBSOLETE.
APD PE v1.00ES
DA Form 67-9-1 Instructions
The rated officer will receive their copy of form DA 67-9-1 at the beginning of the rating period. It is their responsibility to fill in Parts V and VI and to verify their participation in a face-to-face discussion by signing Part III.
The officer must enter the names of the branches they would like to serve and future assignments they feel they suit best. This is supposed to promote a top-down emphasis on leadership communication, integrating the rated officer in the performance counseling and evaluation process.
The DA Form 67-9-1 is used only as a medium for preparing the report and is not forwarded to HQ along with the OER Report itself.
DA 67-9-1 Related Forms
DA Form 67-9, Officer Evaluation Report plays a key part in the Officer Evaluation Process. Prepared by the rating chain, this report provides the HQ with the information about the rated officers' competence, their mental and physical condition, leadership abilities and potential for promotion.
The rating chain consists of at least one rater and one senior rater and may invite an intermediate rater to take part in the evaluation process. What differentiates this form from the new DA 67-10 series is that it is universal for officers of any rank. When finished, the report is verified with the signature of the rated officer and is forwarded to the HQDA.
DA Form 67-9-1A, Developmental Support Form is used when evaluating captains, lieutenants and warrant officers. This form optional when it comes to officers of any other rank.
The support form is filed after a face-to-face interview and contains a development plan for the officer to follow. Generally speaking, this form is a medium in assisting junior officers in their transition to Army culture.