Motor Vehicle Bill of Sale Form - South Carolina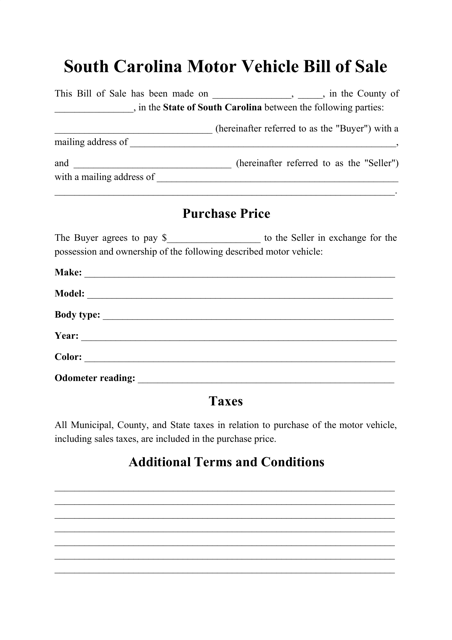 What Is a South Carolina Vehicle Bill of Sale?
A South Carolina Vehicle Bill of Sale, also known as the South Carolina Car Bill of Sale, is a legally binding document used to record the transfer of a vehicle from the seller to the buyer. It usually contains important information about the transfer itself, both parties of the transfer, and the transferred vehicle.
Alternate Name:
South Carolina Car Bill of Sale.
Until recently, the South Carolina Department of Motor Vehicles (SCDMV) required recording all car transfers on DMV Form 4031, Bill of Sale. After the completion, the original copy of this form was returned to the SCDMV. This document was official evidence of the car transfer. However, it is outdated at present. If you need to record the sale of a vehicle, you can download a South Carolina Vehicle Bill of Sale form through the link below. You can also create your specific document using our customizable online template.
How Long Can You Drive on a Bill of Sale in South Carolina?
After buying a car in South Carolina, you must register it with the SCDMV within 45 days. To do it properly you will need the following:
Completed SCDMV Form 400, Title Application;
Title properly assigned to you as the buyer;
Title and registration fee;
Paid property tax receipt;
Infrastructure Maintenance Fee payment, if applicable.
Additional documents you may need include:
If you do not have a South Carolina driver's license or ID, add the completed SCDMV Form TI-006, Statement of Vehicle Operation in South Carolina;
If the title you received does not have the odometer reading or price on it, you will need a bill of sale.
If you buy a vehicle from an individual, you have to submit all of the documents by yourself. If you purchase the car from a dealership, the dealer usually submits the necessary registration and titling information. A private seller has to submit only SCDMV Form 416, Notice of Vehicle Sold.
Selling a vehicle in South Carolina, a Bill of Sale is not a required document in the event the title already includes all of the necessary information. However, both sellers and buyers prefer to fill it out in order to have an additional proof of sale that contains a lot of important details and protects them from any fraudulent claims connected with the deal that may arise in the future. This document is usually filled out in two copies for each party of the deal to keep one and to submit to an official agency if needed.
Does a Car Bill of Sale Have to Be Notarized in South Carolina?
The state of South Carolina does not require a notary public's certification for vehicle sales but it is generally a good idea to have a notary or witness to a sale in order to confirm a transaction has taken place. This can save any potential trouble which might occur should the seller or buyer contest the transaction at a later date.
---
Still looking for a particular form? Take a look at these related forms:
Download Motor Vehicle Bill of Sale Form - South Carolina