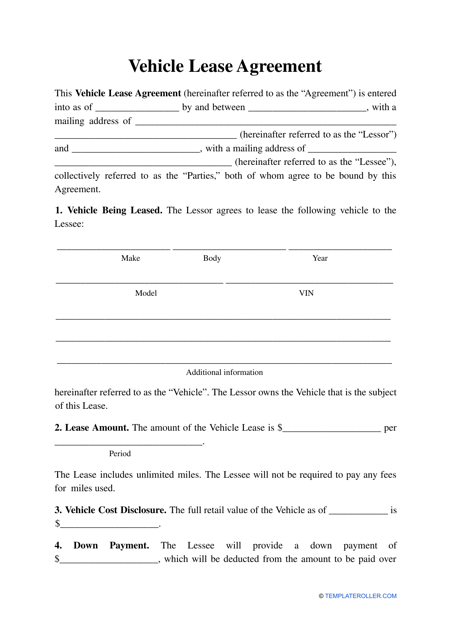 Fill PDF Online
Fill out online for free
without registration or credit card
What Is a Vehicle Lease Agreement?
A Vehicle Lease Agreement is a legal document that records the terms and conditions of a vehicle lease signed by a vehicle owner (the lessor) and a customer (the lessee). The lessee must pay to use the vehicle temporarily, for a negotiated period of time. Any motor vehicle can be leased with this agreement, as long as it has a vehicle identification number and license plate.
Alternate Name:
If you need to draft your own Vehicle Lease Agreement template, you may download one below or create a more personalized document using our online form builder.
How Does a Vehicle Lease Agreement Work?
Vehicle Lease Agreements allow you to use the vehicle for a specified period of time in exchange for periodic money payments. With a lease you never own the vehicle - at the end of the contract period, you must return it to the lessor.
You have to describe the leased vehicle in full detail, state the full retail value of the vehicle, and the amount of the lease. Record the obligations of the parties and the possibility of inspections. Include the provision for late fees and early termination penalties. A properly drafted agreement will protect the interest of both parties - you will avoid miscommunications and misunderstandings, especially if you choose to sign the lease in the absence of a professional lawyer.
It is also possible to enter into a Vehicle Rental Agreement if you wish to sign an agreement for a certain period of time to use the vehicle. On the contrary, a lease is signed for the long term - twelve months and more, with an option to renew. Once you sign the lease, there is no change in the agreement for a fixed period of time, whereas in a rental agreement the owner of the vehicle can change the contract anytime. When the term of the lease is over, the lessee has the option to purchase the vehicle, and the Vehicle Rental Agreement does not offer such an opportunity.
What Happens at the End of the Vehicle Lease Term?
Once the lease is over, the lessee must return the vehicle to the lessor. The vehicle must be in good condition, without excessive interior wear, damage, and significant mechanical breakage, otherwise the lessee will have to pay for the repairs.
The lessor is allowed to offer the lessee to purchase the vehicle. If the lessee agrees to do it, the lease payments are included in the total purchase price. If you choose to end the lease before its term is up, you may be subject to early termination penalties, including having to pay the rest of the lease payments with additional fees and charges.
---
Related Templates and Forms: